A Fortunate Career - Bob Santamaria
Bob Santamaria retired from his role as ANZ Group General Council on 30 September 2019, after 12 years with the bank. Prior to joining ANZ, Bob had been a partner at Allens and was with the firm for 24 years.
Below is an excerpt from the speech Bob gave on his retirement. A version of this speech also appeared in The Australian.
---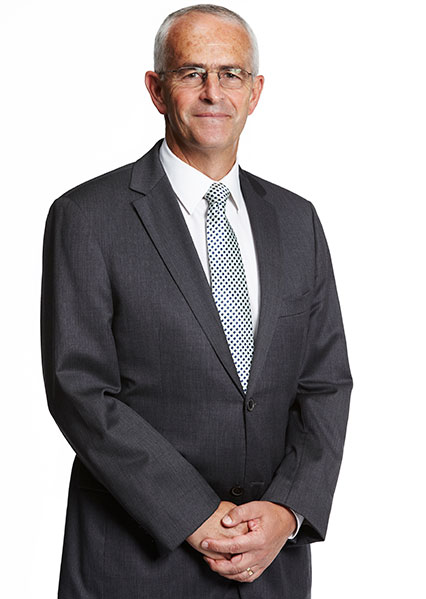 Introduction
I want to talk to you about your career and aspiring to a leadership role, whether at a large law firm such as my old firm, Allens or wherever your career takes you. I told Shayne Elliott and David Gonski two years ago that I wanted to retire last September, when I turned 65. I want to work in the community for 15 years. Then, the Royal Commission was announced and I told Shayne that I would not leave him in the middle of a Banking Royal Commission. As you come close to retirement, you reflect on the kindnesses you have received throughout your career. And I want to explain how that kindness, that good fortune – and other considerations – helped shape my career.
I also want to talk to you about various aspects of leadership in a large law firm or at a large (or small) corporate. I have to tell you that I feel a bit of a fraud talking about leadership: I struggle to think of myself as a senior leader. So, I want to make one comment early on in this talk: that which I will describe is just the way that I have gone about things. That, throughout my 'fortunate career', my focus has often been not on thriving, just surviving. Especially in my early years. I will come back to that.
I will talk about six aspects of leadership:
how I sought to care for the clients at my old law firm – bank customers involve many of the same considerations;
the central importance of caring for your people;
influencing outcomes;
leadership of large projects, with the case study being the Royal Commission;
the role of leaders in a 'speak up' culture;
leadership in adversity and the opportunity it provides; and then
some closing thoughts.
Starting at My Old Law Firm
The term 'customer centricity' and the phrase 'putting our customers at the centre of all we do' are repeated so often that they are now clichés – do we really think this way?
I spent 24 happy years at my old law firm but, when I first arrived, I was dreadfully lacking in confidence.
This was made worse when I looked around me and saw I was in the company of brilliant lawyers who had topped Law School and had gone on to become some of the most sought after corporate lawyers in the country.
At Melbourne University, I studied Law and Commerce. I attained an honours degree in Law, a third class honours degree. I came 20th out of the 21 in the honours class list. I watched my mates thrive in their early careers with mine going nowhere. To this day, nearly 40 years ago, I still vividly recall one morning, heading to work, thinking whether I could feed, clothe and educate our (then) four young children running a milk bar. As I was plainly not going to make a career as a lawyer.
The thought of thriving never entered my head. The only question was how I was to survive in the company of the stellar lawyers at my old law firm?
I figured that, as I was not as smart as them, I needed to do something to make up for this: I resolved that I was going to be the best at caring for our clients. It was nothing special: I just made it a rule that I returned calls promptly and never left work without responding to each call. I made it clear that they needed to tell me when something was not done as they wished: I tried always to be good, positive company (especially when I least felt like it) – and I would tell them when, even if it cost our firm millions of dollars in fees, I felt they should not proceed with a deal.
I was an M&A lawyer and M&A deals are invariably large projects with all different streams and lots of tedious checking of contracts and other due diligence materials. In my early years, I put my hand up for all the tedious jobs and tried to do them really well – partners and clients noticed and they started asking for you to run their projects. Whether you have clients of a law firm or customers of a bank, people greatly prize reliability and great service.
I ended up as the Relationship Partner for BHP, Rio Tinto, Amcor, ANZ and Aviva – I can assure you that nobody was more surprised than me, at this course of events.
When I look back on 24 happy, transformative years at my old law firm, the single greatest memory I retain is how the partners built my confidence. Everybody – everybody – has moments, periods of self-doubt. A small dose of this is a good thing; an overwhelming sense of it is not. It is like a cancer, eating away at you. I think that there is no greater gift a leader can give to the people in their care, than to build their self-confidence. Am I good at this? Not very. But I try to do this.
Influencing Outcomes
To be a good leader – to be a good leader of your team, to be effective with peers and those above you – you cannot just rely on being someone with great insights.
A good leader naturally has to deliver results to progress in their career. But it is rare that you can do this by yourself. A good, effective leader has to combine good insights with an ability to bring people with them.
There is no point being individually brilliant if people do not want to work with you. Great outcomes - at places like ANZ - are invariably the result of the efforts of a great team, not just one individual.
I want to speak briefly about dealing with difficult people and situations. My late father was, after my wife, my closest friend. He was intellectually brilliant: he started University at the age of 14 and won many prizes. His public life began at University when he was often advocating causes which were highly unpopular. He loved his years at University. On the day before I started at University, he asked me if I was looking forward to it. So, you can imagine, he was initially puzzled, when I said that I was dreading University. 'Why?' he asked. My father had a weekly television program where, among other things, he advocated the highly unpopular view that we needed to stand beside the South Vietnamese people in the Vietnam War. The Vietnam moratorium marches were filling Melbourne's streets. I was named after my father and I explained that, being introduced to many new people with that name, people would be prejudiced against me. Far from being hurt by this, my father said I was right. Not quite the reassuring response I was hoping for! He spoke of his very dear friend, 'Bill' Anderson. Bill as he was known, was Sir John Anderson, the Federal Treasurer of the Liberal Party. He said 'You can see how close my friendship is with Bill'. I did. 'Well, the first time I met Bill, he seemed to look down on me. But I was told that he was a good person and I resolved to build a friendship with this good person'.
None of us is perfect, especially me. You have to work with difficult aspects of colleagues. Persevere with them, even if they are rude to you. If you want to be respected as a leader, respect others. Give others the credit for a good outcome. Show personal kindness to others. I have tried to make this how I engage with others throughout my career.
If tomorrow, you need to persuade others to how you think a project should be run, if you need to bring others with you, to influence an outcome, the work to achieve that does not start that day. It is some years before, when those around you came to respect you for how you conduct yourself.
Leadership of a Large Project
The top 200 leaders at ANZ are often asked to lead projects, especially transformational projects.
They are a great opportunity to show real leadership: to deliver real improvement.
They are, also, occasions when things can go badly wrong.
In 40 years in practice, I had never been involved in a Royal Commission. How did I approach this challenging task?
Knowing I knew nothing about them, I turned to Ken Adams, who had worked on several Royal Commissions, to inform myself, then others like our CEO, Shayne Elliott.
When you run a large project, you need to set time aside to reflect, especially at the start but regularly afterwards, to see how things are tracking.
During that initial period of reflection, having listened closely to the difficult experience which Ken explained awaited us, I set myself four KRAs:
First, position ANZ's engagement with the Royal Commission so as ideally we come out as the best of the four main banks at the end. Others can best assess if we achieved that; I am too close.
Second, in what would be a huge project, we needed to work to minimise the cost
our Royal Commission team needed to be run as a military exercise;

there were in excess of 200 people working on this project with constant, nasty deadlines;

nonetheless, we finished within budget by the end of the project.
Third, minimise the distraction from running the Bank
we put in place a large comms program so our people knew we would keep them informed and they did not need to waste time, constantly watching the webcast, looking for how we were going.
Fourth, to care for our people involved in the Royal Commission: the extraordinary hours being worked for over 12 months, the pressure of not making mistakes, the glare of nasty publicity, all made for a draining exercise. So, we put in place a comprehensive wellbeing program where we sought to rotate the work, we sought to give people respite, we arranged a professional counselling program, we gave days in lieu, we provided nights out for members of our team and their partners.
I am glad that I stayed for the Royal Commission. Yes, it was harrowing, constantly worrying whether ANZ would have its 'AMP' moment. But running the ANZ response was a huge privilege. It also reminded me that I really have only two talents: spotting great people and building them into a great team. The real credit for our Royal Commission response goes to the likes of our outstanding CEO, Shayne Elliott – nobody, nobody worked harder than he did – and others such as Guy Gaudion and his team, Gerard Brown and his, the Comms team, the witnesses, the SMEs, those in T&C. It was a huge privilege to bring this group together, one I will never forget.
Having a 'speak up' culture – being courageous
I want to reflect on the importance of leaders fostering a 'speak up' culture.
There is much being written of the importance of having a 'speak up' culture. For good reason. Any organisation will struggle to achieve its full potential if staff are so in fear that they will not speak up when things are wrong. And it affects how much people enjoy, and are proud of, the place where they work.
I want to speak to you about my first 'speak up' moment at ANZ.
In my early months at the Bank, I witnessed a senior executive savagely criticise one of their direct reports in front of several others. It was a horrible moment. I reflected on this for a week and, in the end, asked myself what my wife, our adult children, my parents would think if I sat back and did nothing. I raised it with the 'offender' who was angry with me. I said that my concern was for them, that if such behaviour resulted in the subordinate holding back in the future, they might lose their job but the senior executive might well lose all credibility with external stakeholders. It was them I was concerned about. A week later, I was given a promotion. It said a lot about the senior executive that their response to personal criticism from me was to respond in such a positive way.
Now, I hasten to observe that I had the luxury that I could afford to be sacked: our kids were off our hands and I did not need the job. Many of you will not have that luxury.
I talk to my own leadership team, and the broader ANZ Legal cohort, about such situations. 'Speak up' situations are not often black and white. They invariably involve shades of grey, matters of opinion, questions of judgment. I tell my team, that in such situations, I would never feel bad if, initially, they feel confronted by difficult situations requiring courage to speak up. As a leader, it is essential to empathise, to remember what it was like, to be in junior ranks. But I also say that, while I understand, and would forgive, an initial lack of courage, I tell my team never to forget that they have plenty of colleagues about them: they should ask others if they agree there is a problem and whether it should be raised. And to then raise it with their manager. Talking with others about 'speak up' situations is often particularly helpful.
Closing Thoughts
Can I leave you with these three last thoughts:
First, in all my engagements with our customers and the people I lead, I try always to ask what my parents and my adult kids would think of me if I did not do the right thing. I did the same when at my old law firm. Do I get this right? Not very often, I suspect. But I always try to keep them – and what they would think of me if I did the wrong thing by a customer or the Bank – as my guide in such dealings.
Second, the Royal Commission was a very confronting experience. Unfortunately, I fear that the next 3-5 years may be even more difficult, for banks and their lawyers. When you hear all the bad stories about banks from the Royal Commission and elsewhere, it is very easy to be downcast. I try never to let that happen. I don't always succeed. But I try because, as a leader, you have a responsibility to be a source of positive energy to all around you, especially in difficult times. As I say, the next few years will be difficult in banking. ASIC and APRA will naturally react to the criticism they received in the Royal Commission. They now have much greater resources to pursue enforcement actions. But we should all view adversity as an opportunity to shine. ANZ is not perfect but, in so many ways, from its CEO down, people are trying to do the right thing.
Lastly, as you have heard today, I loved my 24 years at my old law firm – but working at ANZ has been the best 12 years of my working life. Throughout that time, ANZ has had a first rate board, which has both challenged me and supported me in my role.
And I feel incredibly lucky that the last four years of my fortunate career have been spent alongside a remarkable CEO in Shayne Elliott: an extraordinary intellect, an incredible work ethic and a humane and humble person.