Founding the firm
The firm we know today as Allens was started on 22 July 1822, by George Allen, the first person to receive their full legal training in Australia. George arrived in Sydney on 19 January 1816 as a free settler after his mother Mary made the bold decision to take her children and follow her convict husband to the young colony of New South Wales.
The family had few possessions, but Mary brought with her a letter of introduction to the then Governor, Lachlan Macquarie. It was this letter that would set in train the course of young George's life and would lead to the creation of the firm we know today. Mary's first husband, George's father Richard Allen, had been, before his death, a physician who included among his patients the Prince of Wales (later to be crowned King George IV). It was through Richard's connections that Mary managed to gain the support she needed to establish her family in the new colony, including the letter of introduction.
Macquarie arranged for George to be articled for legal training to one of the two government solicitors in the colony, William Moore. Unfortunately for George the arrangement was short lived as Moore was suspended not long after for quarrelling with Macquarie. It was several months before Macquarie arranged for George to be articled to the other solicitor, Frederick Garling. George completed his training with Frederick over five years, commencing on 21 July 1817.
At the completion of his training, George opened his legal business, initially working from the office of The Sydney Gazette and New South Wales Advertiser, Sydney's first newspaper, which was edited by his close friend Robert Howe. Within a month, George established his own office on the corner of Hunter and George Streets in Sydney. He made one more move in that first year before purchasing a cottage in Elizabeth Street, just a stone's throw from the current Allens Sydney office. This cottage became the home for both his business and his family and, while the family moved to a new house in Glebe in 1831, the cottage would remain the firm's office for 60 years.
The cottage in Elizabeth Street as depicted in Joseph Fowles' Sydney in 1848.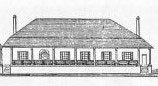 In 1848, artist Joseph Fowles published a series of illustrations of the streets of Sydney. In these drawings you can see George Allen's cottage in Elizabeth Street. In his description, Fowles wrote: 'One of these cottages is occupied as the business offices of George Allen, Esq., one of the most respectable Solicitors, and wealthy men of the City. He was admitted an Attorney of the Supreme Court in the year 1822, and his career has strikingly illustrated how high respect and honour can be achieved by persevering industry, and unswerving integrity.'
Your story is our story
2022 will be a year of great significance for Allens as we celebrate 200 years and the people and events that have made our modern firm.
While our story started with just one man, George Allen, it has become the tale of the many people who have worked tirelessly to shape a better future for our clients and our communities.
In preparation for this momentous occasion we have launched a history project to dig into our archives and discover the wonderful stories and artefacts that should not be forgotten. We will be compiling the best of these for a book to be published in 2022.
You, of course, are part of our story and we're seeking your help to rediscover significant moments and memorabilia from our past. If you have any story or memento from your time at Allens that you would like to share, please email us at history@allens.com.au. We would love to hear from you. Stay tuned as we relate some of the fabulous finds we have already uncovered.