Tune in to Allens Confidential
Embarking on a career in corporate law can be daunting. It was a desire to demystify what it's like to work at Allens that led junior Allens lawyers Geneva Sekula and Roseanna Bricknell to create the podcast - Allens Confidential. Now in its third season, Allens Confidential sees the duo interview a variety of Allens employees about their work and how they came to join the firm – with a lot of fun had along the way.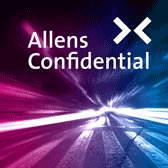 In season 3, episode 1, Geneva and Roseanna speak with Partner Valeska Bloch and Managing Associate Dave Rountree, from the Technology, Media and Telecommunications team, about how technology and innovation are shaping the nature of their work and the increasingly important role of data management. Dave also reveals an impressive, if also niche, claim to sporting fame that became a key talking point during his clerkship interviews.
You can listen to the podcast through the Allens website or download the series on iTunes, Spotify or PodBean.