Brisbane beginnings
While the past year in Australia has been tough, it pales in comparison to the devastation experienced in Ireland in 1846. It was the second year of the Irish potato famine, also known as the Great Hunger, a food crisis during which over a million people died from starvation and related causes and another million were forced to leave their homeland.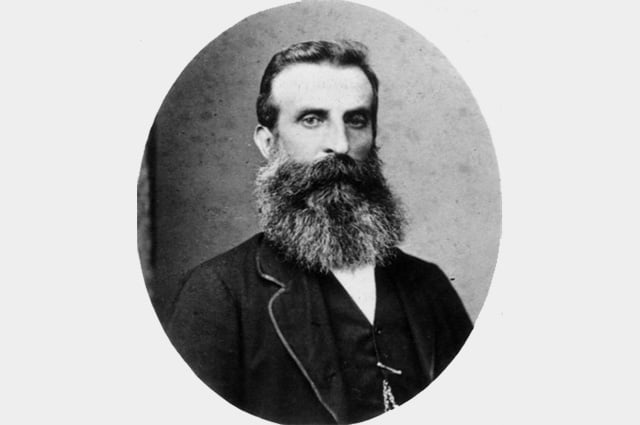 23-year-old Robert Little was one of those who left. With his brother John, he boarded a boat to Sydney with little more than his recently acquired legal qualifications and a letter of introduction from his bank to the Bank of New South Wales (which we now know as Westpac).
The letter proved valuable. The bank helped Little get acquainted with the people of Sydney and introduced him to their solicitor George Allen and his son Wigram. Little and Wigram were of similar age and appear to have struck up an immediate friendship. Their bond endured and the connection between their legal firms strengthened through the years, eventually leading to a merger. (Image: Portrait of Robert Little - Collection of John Oxley Library, State Library of Queensland)
When they first met, Wigram helped Little be admitted as a solicitor in New South Wales. Knowing Sydney and Melbourne were well-stocked with lawyers, George suggested Little seek his fortune in Moreton Bay (now known as Brisbane). As the official solicitor of the Bank of New South Wales, George was aware of the bank's plans to open its first branch outside of Sydney and understood Moreton Bay was the likely location. Little followed his advice and headed North. When he established his firm, he used George and Wigram as his 'town agents' to file court documents and undertaking title searches which couldn't be completed in Moreton Bay. The colony was still very much in its infancy, having only been opened to free setters in 1842. By 1846, the area's population consisted of 2,257 colonists and 4,000 local Indigenous people.
Shortly after his arrival in Moreton Bay, a terrible tragedy befell the small community. In March 1847, the Sovereign, a passenger and cargo ship on its regular route from Moreton Bay to Sydney, set off in rough weather and hadn't gone far when it struck the end of Moreton Island and capsized. On board were 54 crew and passengers. Only 10 survived. They were rescued by six local Indigenous men who put their lives at risk in the extremely dangerous conditions to swim to the wreck and pull the survivors to shore.
Little helped establish a fund to assist families rendered destitute by the disaster and show appreciation to the Indigenous men for their heroic efforts. Little himself had lost a check in the wreckage but that was nothing compared to the bereavement of so many others. He served as secretary and treasurer to the fund. The government presented the rescuers with engraved brass plates to recognise their efforts.
In the coming years, the young solicitor made himself indispensable to anyone wishing to transact property in the area and became known for his great tact and benevolence. When the New South Wales judicial system was extended to Moreton Bay in 1857, Little was appointed the first crown solicitor for civil and criminal cases. As official work was minimal in the early days, he was allowed to maintain his private practice. He went on to become one of the leading citizens of his day.
Little's firm prospered and, after his retirement, it continued to grow. It became known as Feez Ruthning and, in 1996, merged with Allen Allen & Hemsely (as Allens was then known).
---
We're Australia's oldest law firm and excited to be counting down to our 200th birthday celebrations in 2022. If you have a story from our history to share, get in touch with our History Project Lead Jillian Maxwell.