Celebrating one of the longest fellowships offered in an Australian teaching hospital
November 2018
This year, Renner Hudson, 8 years' old, woke one morning with a sore eye and a loss of balance. His mother, Catherine Mackey, a school teacher outside of Sydney, took Renner to the local hospital where they diagnosed a virus and sent him home. Renner's condition deteriorated throughout the day to the point where he couldn't walk and lost control down his right side. A return trip to the local hospital had a paediatrician worried and a call was made to Sydney Children's Hospital, Randwick.
Renner and his mother Catherine were taken by ambulance to the Neurology Department at Sydney Children's Hospital, Randwick where they were immediately seen by a team of specialists, including Allens Fellow Emma Macdonald-Laurs, who diagnosed a stroke in the main artery of his brain. By 1am, Renner was in theatre having a procedure that only eleven children in the world have undergone, to remove the clot in his brain.
Renner spent five days in ICU but – remarkably – has no ongoing deficit as a result of the speedy intervention he received.
This year we celebrate a 20-year partnership with Sydney Children's Hospital, Randwick and Sydney Children's Hospitals Foundation that has seen Allens fund an annual Paediatric Neurology Fellowship, providing specialist neurology training for a junior paediatric doctor. In Renner's case, Dr Emma Macdonald-Laurs, the 2018 recipient of the Fellowship, was on hand to diagnose and treat his stroke.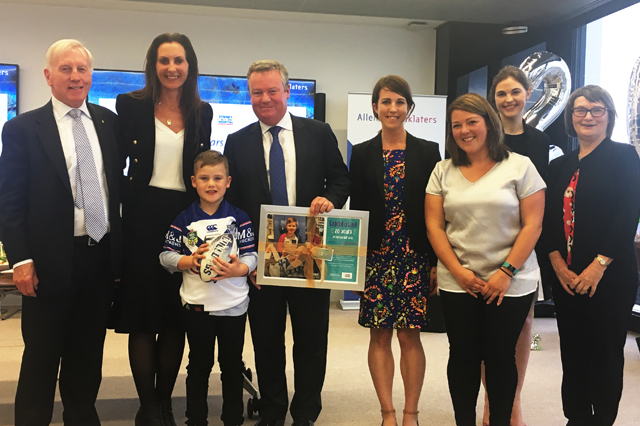 Left to right: Jim Dwyer, Susan Wynne, Renner Hudson, Ross Drinnan,
Dr Emma Macdonald-Laurs, Catherine Mackey, Millie Grant, Prof Annie Bye.
Associate Professor Annie Bye AM, Head of Neurology at Sydney Children's Hospital, Randwick speaks passionately about the Fellowship program.
The Allens Paediatric Neurology Fellowship is one of the longest fellowships offered in Australia's teaching hospitals. A large proportion of paediatric neurologists in Australia and New Zealand have studied through the program. This is a remarkable achievement that has strengthened our workforce. The investment in the Fellowship has a 'ripple effect'. It enables doctors to receive additional training to go on to practice, assisting thousands of children like Renner.
A fellowship like this provides a truly unique opportunity that has significant, ongoing benefits

Dr Emma Macdonald-Laurs
Dr Emma Macdonald-Laurs said she owes her training to the Fellowship.
Each year, Allens clerks witness first-hand the extraordinary work undertaken by the Allens Fellows and Associate Professor Annie Bye through a visit to Sydney Children's Hospital, Randwick. This is seen as a fantastic experience for our clerks and a highlight of their time with us.
Millie Grant, a former clerk now Allens Lawyer commented: 'The hospital tour was a standout of the clerkship program. It was truly humbling to witness first-hand the valuable work undertaken by the fellows and Associate Professor Annie Bye and the difference they make in the lives of so many children and their families.'
'Our partnership with Allens is about so much more than just receiving a cheque each year to fund a position. We love Allens' ongoing interest in our work and the time taken to get to know the recipient of the Fellowship. We look forward to the annual summer clerks visit as we show the clerks our world and we hope they leave the hospital with a sense of the work we do and the contribution the Fellowship makes,' Annie concluded.