Changing the lives of LGBTQ+ law students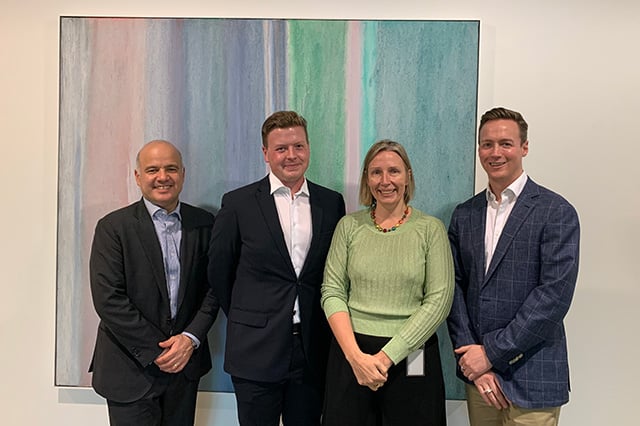 Law student Curtis Haas has been named the first recipient of the Allens Pinnacle Scholarship, which provides educational and mentoring support to young people who identify as LGBTQ+ and are interested in a career in law.
The Pinnacle Foundation provides educational and vocational support to young LGBTQ+ Australians to realise their full potential and overcome challenges arising from their identity. Curtis is one of 51 scholars who will be supported by Pinnacle in 2021. (Photo: Richard Spurio, Curtis Haas, Rachel Nicolson and Robert Walker at the Melbourne Pinnacle scholar welcome event.)
Curtis is a second year law student at the University of Melbourne with a keen interest in the global political economy and Asia studies. Following a chance conversation with a previous Pinnacle scholar, he decided to apply for the Pinnacle scholarship.
He said the difference the scholarship has made already is enormous. 'As a student, having a scholarship is a huge benefit, but the people, the community and the support that I've gained already has completely changed my life,' he says.
The announcement marks the official commencement of Allens' multi-year partnership with The Pinnacle Foundation, part of the firm's ongoing commitment to providing an inclusive workplace where diversity is fostered and the contribution of different backgrounds is valued.
'At Allens, providing an inclusive workplace where diversity – including identifying as LGBTQ+ – is celebrated is important to who we are as a firm,' said Allens Partner and ALLin committee co-head Robert Walker.
'We are thrilled to be able to support Curtis through the Allens Scholarship and very excited to share in his journey to a career in law.'