The case that ran for 50 years
In boom times and bad times our involvement with major infrastructure investment in Australia has a long and proud history.
In the 1850s, a boom in Victorian infrastructure occurred as a result of the gold rush. The state underwent an extensive transformation as money and people flooded in. The population of Victoria grew considerably from 11,738 in 1841 to 410,766 in 1857. By 1871, it had reached 731,528. Melbourne expanded rapidly, with increasing infrastructure and new railway lines connecting the city with the goldfields of Ballarat and Bendigo. This opened new industrial and residential areas. 'Marvellous Melbourne', as it became known, was abuzz with excitement. It was a city in a hurry. While Sydney grew slowly and steadily, Melbourne was racing.
The construction of the Geelong to Ballarat railway line was a significant part of this development, enabling the gold rush town of Ballarat to transform into a major city. The early days of the railway line were full of high drama and the solicitors of Crisp Lewis & Hedderwick (later to become Arthur Robinson & Hedderwicks) would spend years helping to resolve one particular matter.
Evans, Merry & Company was awarded the contract to build the Geelong to Ballarat railway line which, would stretch 54 miles (87 kilometres) and feature substantial engineering works, including seven bluestone arch bridges and a 10-span viaduct over the Moorabool River. Work began on 26 August 1858 but was met with immediate unrest among the large workforce. This was an era of great rebellion and the Eureka Stockade in Ballarat, only four years prior, was still fresh in people's minds. The 300 railway workers were upset over George Sexton Evans and William Roberts Merry's decision to pay part of their salary in rations and marched towards Geelong to fight for their rights. Relations between the company and the workers didn't improve and, by 26 March 1860, the contract was given to Messrs. Williams & Little.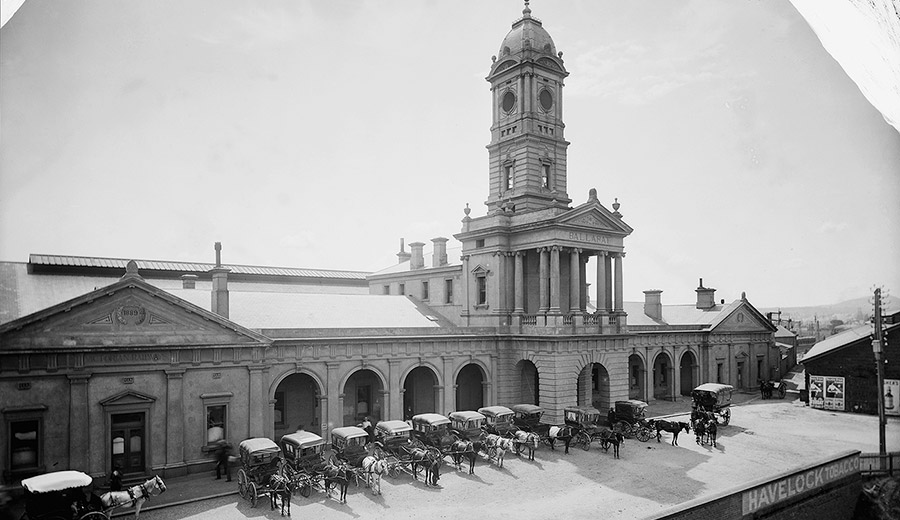 A multitude of legal cases between the workers and Evans and Merry followed. Evans and Merry then filed their own case against the Government, declaring themselves entitled to £9,700 for their portion of profits from the railway line. Crisp Lewis & Hedderwick represented the crown's interests and, in 1883, Thomas Crisp went to London, as an appointed commissioner of the Supreme Court of Victoria, to take evidence from witnesses in relation to the case. By 1889, Merry was claiming £500,000 in damages. At this time, the case caused quite a commotion in Chancery Lane (now Little Collins Street), as 'huge documents measuring some three feet high were carried along by three solicitors' clerks to the chambers of the barristers'.
In 1911, a Parliamentary Select Committee awarded Evans and Merry an allowance of £10,000 (equivalent to $1.4 million today) as compensation for their losses. By this time, Merry was 84 years' old and in feeble health. The payment came too late for Evans, who had died 15 years' previously; his share was divided among his children.
Your story is our story
2022 will be a year of great significance for Allens as we celebrate 200 years and the people and events that have made our modern firm. While our story started with just one man, George Allen, it has become the tale of the many people who have worked tirelessly to shape a better future for our clients and our communities.
In preparation for this momentous occasion we are digging into our archives and discover the wonderful stories and artefacts that should not be forgotten. We will be compiling the best of these for a book to be published in 2022.
You, of course, are part of our story and we're seeking your help to rediscover significant moments and memorabilia from our past. If you have any stories or mementos from your time at Allens that you would like to share, please email us at history@allens.com.au. We would love to hear from you. Stay tuned as we share some of the fabulous finds we have uncovered.