Geneva Sekula
Geneva Sekula is a Senior Associate in Disputes & Investigations, co-creator of the Allens Confidential podcast and two-time Allens Values Awards winner.
I am a classic clerkship baby. I remember feeling daunted coming up the elevator to my first interview at Allens – I'd had no experience within a big commercial law firm and wasn't sure what I should expect. While I was studying, I lived a little over an hour out from the CBD, so I remember keeping an eye on the clock at clerkship events because I didn't want to be too late getting home. But at the Allens cocktail evening I looked around and realised the crowd was dwindling because it was, in fact, getting to be quite late. I just hadn't noticed because I was genuinely enjoying all the conversations I was having with people.
Everyone was so nice – super busy and important people who were bizarrely invested in me(?) – it really made Allens feel like the right choice. So I was delighted (and terrified) to join as a summer clerk, and then return as a grad.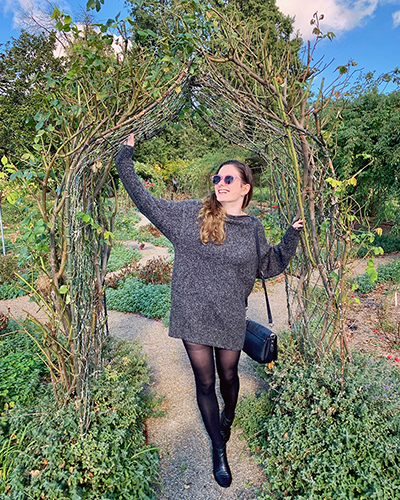 I loved my grad years – I was quickly absorbed by the Allens culture, which is a mix of learning and mentorship and friendship and, sometimes, a team lunch. I had no idea that's what I was buying into when I was assessing my clerkship options – it's really hard to get a vibe for law firms from the outside. That's how Roseanna Bricknell and I came up with the idea for a podcast for students about the Allens vibe, which eventually became Allens Confidential.
When Rose and I first pitched our idea, we weren't sure how it would be received. It seemed slightly ambitious that the firm would let us incorporate "podcast host" into our job description. Instead, we were delighted by how receptive people were to our little idea. The podcast has since grown, and has now been running for more than three years. I've now passed the baton to the next generation of hosts (who are doing more with it than I ever could have dreamed!) but to this day nothing delights me more than when someone tells me that Allens Confidential helped them in the clerkship process.
The last few years have been so incredibly challenging for students – I hope that through all the lockdowns and Teams meetings, our little home grown podcast has continued to help students get a sense of who we are at Allens and what we do. Turns out the law really is about the vibe.