Paul Telford
Paul is a partner specialising in infrastructure and major projects with a particular focus on PPP transactions. He has worked on a broad range of infrastructure projects covering sectors including health, entertainment, transport, justice and energy.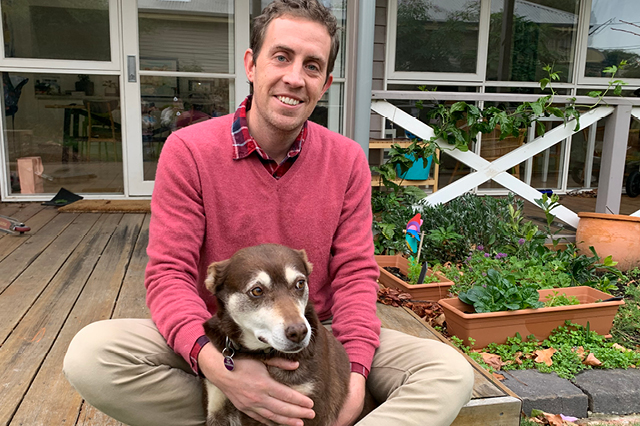 I wouldn't have made it this far in my career without my wife. I'm not sure I'd be willing to make the sacrifices that she's made in her career in order for me to progress in mine. We've got three young kids, and I wouldn't be able to dedicate myself to work in the way required if I didn't know someone was providing them with exactly what they need. My wife has made that sacrifice for us.
COVID has only made that starker. My kids have started playing offices since we started working from home. They set themselves up at a desk with a fake computer and pretend to be on phone calls and typing. Initially, they almost always pretended to be dad in the office.
During our remote working I took two weeks of leave, and I went into it thinking I'd be able to keep matters ticking along, with some calls and a few hours of work during the day. I could not have been more wrong. Between home schooling and keeping the house running, work could really only start at night. I now have a much better appreciation of the skills required (and that my wife possesses) to manage her career in the way she does. Since my leave the kids have started pretending to be mum more when playing office.
The other key element in my career has been cultural fit. Before I started working I had doubts about whether 'cultural fit' was a real thing, or at least about its importance. But it's absolutely true that workplaces have different cultures and will fit different personalities. Starting out in my career I assumed I would have little in common with people working in large law firms. However, when you actually get to meet them it turns out they're just people, and if you pick the right firm they're people with whom you share values and standards. You know it when you find it.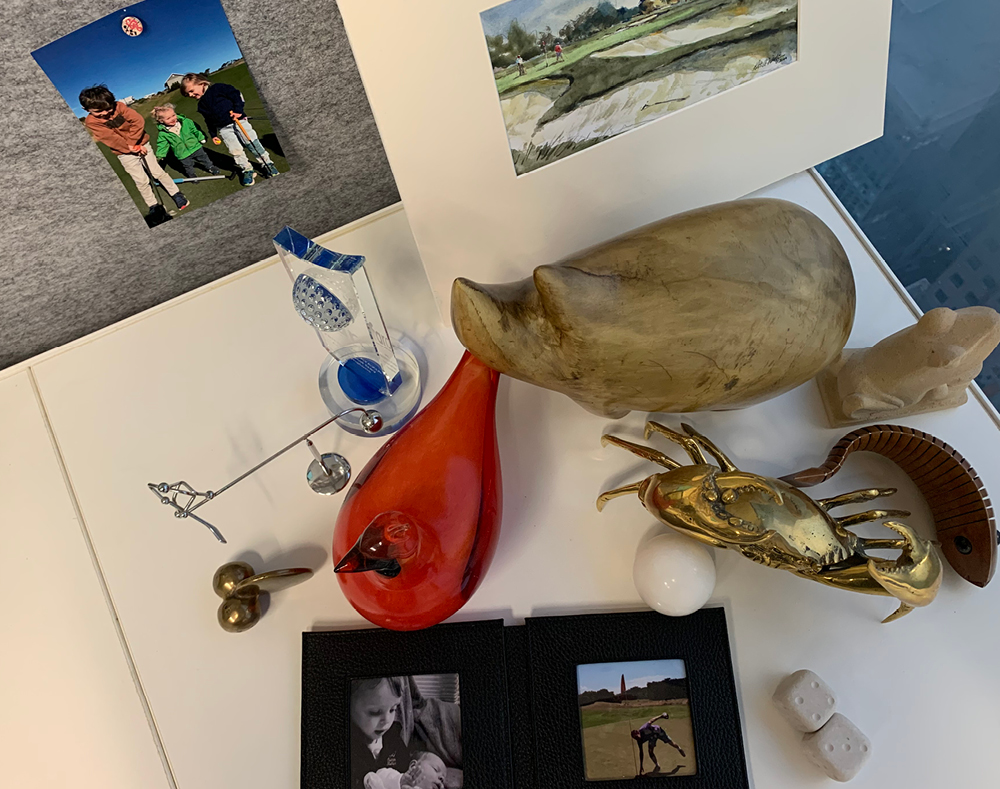 Front and centre is a PHOTO of me pulling my only hole in one out of the hole. Sharing the photo frame is an out of date photo showing only two of my three children. If I get another hole in one, the photo of the children will be lost forever.
MR PINCHY THE CRAB AND THE RED GLASS CARDINAL Most parents would probably agree that you can have nice things or young children, but not both. Accordingly, this pair live at work as I like them too much to risk their premature demise.
VARIOUS STONE KNICK KNACKS Collected on holidays, including the large soapstone rhino – I bought the rhino because I couldn't believe how heavy it was. It still surprises me every time I pick it up.
GOLF TROPHY This was from a charity golf day with clients last year. One of the very few success stories of my recent golfing exploits and I needed a team to carry me through it.
WATERCOLOUR PRINT There is a family connection to the artist and a personal connection to the image. I love looking at it and planning the weekend.
PHOTO This is of my kids on the par three course at Barwon Heads. Like many golf tragics I am cultivating a love for golf in my children so that I have an excuse to play more often.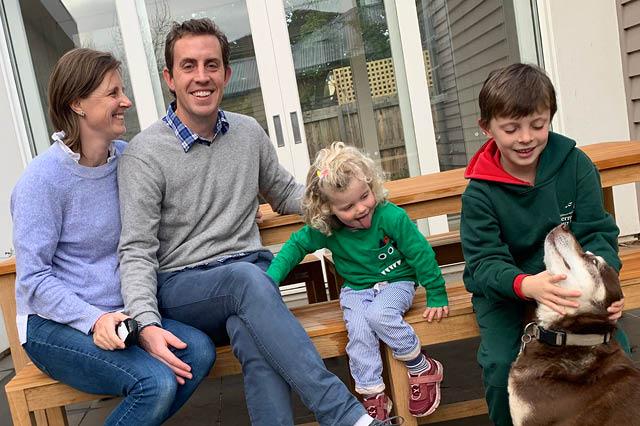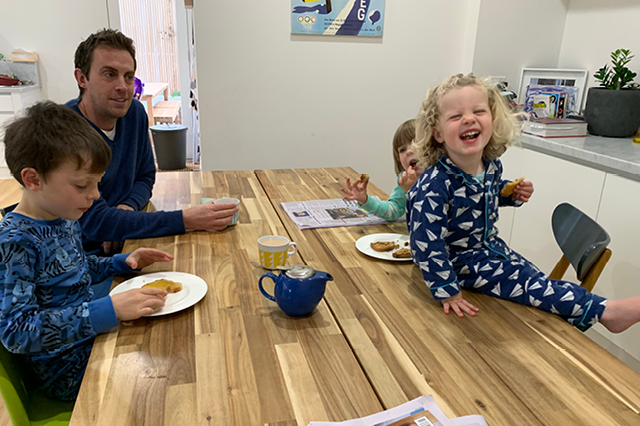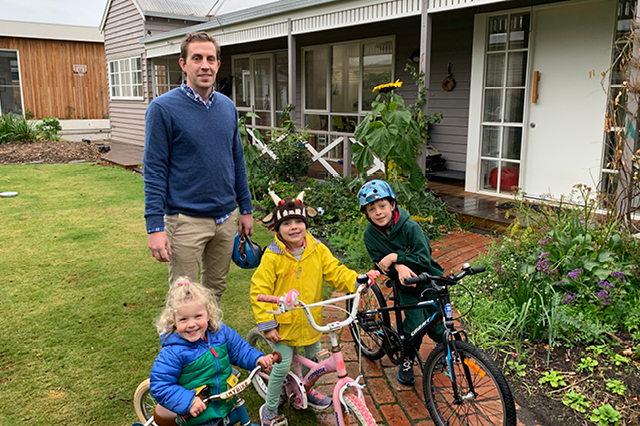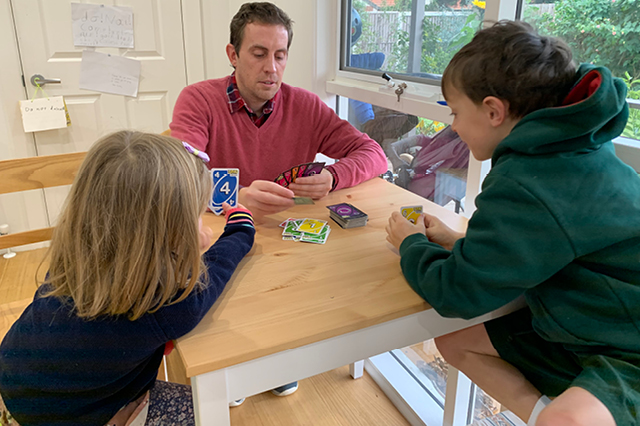 Tea or coffee? Tea. I really only started drinking coffee as an articled clerk, and then would get headaches on the weekend when I didn't drink it. I resolved the issue by giving up coffee. It has been pointed out to me that I could have instead drunk coffee on the weekend. Rookie.
What is the best silver lining from the lockdown? Being able to sneak out for some kid time when I need a break from work. My Uno Flip game is very sharp as a result.
What have you missed most during the lockdown? My ride to and from work. I could go for a ride before starting work for the day, but it just isn't the same.
Are you a morning person or an evening person? By inclination an evening person but by necessity a morning person.
Who lives in your house? My wife and three kids. Our dog Tess is strictly an outside dog.
Dogs or cats? Dogs – I'm allergic to cats and just don't see what they have to offer.
What are you currently reading? Stephen Fry's biography and Harry Potter (with my son).
What makes you laugh the hardest? Recently, VEEP. But more generally my two-year old Matilda.
What's the best career advice you've ever received? Give your own career the same treatment you would provide for a client.
What was your first job? Working at an after-school care centre. Basically just mucking about with kids for a couple of hours.