Coronial inquest providing a voice for Aboriginal rights
Navigating new legal territory
Aboriginal and Torres Strait Islander people are advised that this page contains images of deceased people.
Following the tragic death of Yorta Yorta woman Tanya Day, Ms Day's four children are seeking justice. The coronial inquest into their mother's death has now concluded, and the strength and determination the family have shown remained the driving force behind the novel legal case that explored the systemic racism affecting the treatment of Aboriginal people in the criminal justice system.
On 5 December 2017, Tanya boarded a Melbourne-bound train in Echuca, a trip that takes around four hours. Not long after Tanya boarded, a conductor came down the aisle checking for tickets and found her sleeping on her seat. Tanya was not able to produce her ticket (even though she had purchased one), so the conductor called the police to report an 'unruly passenger'. She was removed from the train and arrested for being drunk in a public place.
Tanya was then detained at Castlemaine police station in a bare cell comprising a concrete slab with some cushions and a blanket for a bed. Not long after being placed in the cell, Tanya slipped and hit her head heavily on a concrete wall. Despite the requirement that she be physically checked and roused at least every 30 minutes, this did not happen, and it took almost four hours before police noticed a bruise on her forehead. Tanya was taken by ambulance to Bendigo Hospital, where a scan revealed the catastrophic extent of her injuries – she had suffered an extensive brain haemorrhage. She was airlifted to St Vincent's Hospital in Melbourne for emergency surgery but tragically died seventeen days later. Tanya was 55 years old.
Navigating new legal territory - 'systemic racism' as a contributing factor
The circumstances of Tanya's death mandated that a coronial inquest be held under section 52(2) of the Coroners Act 2008.
For the Day family, it was imperative the inquest consider whether racism played a role in their mother's arrest and detention. Consequently, a cornerstone of the legal strategy was ensuring the Coroner could have consideration to 'systemic racism' as a contributing factor to the circumstances and cause of Tanya's death – the first time in Australia this argument would be tested.
Tanya's family also sought to have the 'offence of public drunkenness' repealed from Victoria's Summary Offence Act 1966, which is an outdated offence that disproportionately affects Aboriginal people. There have been repeated calls for its repeal, including in the Victorian Parliament's 2005 Implementation Review of the Recommendations from the Royal Commission into Aboriginal Deaths in Custody. In support of the legal effort, the Day family did incredible work as advocates by, for example, launching a petition for the repeal of the offence. The campaign was hugely successful, and achieved more than 7,000 online signatures and nearly 4,000 written signatures.
Both of these themes – systemic racism and public drunkenness – were explored over the course of several directions hearings, the first of which occurred in December 2018, shortly before Allens became involved in early 2019. Allens was engaged first by the Victorian Aboriginal Legal Service and then by the Human Rights Law Centre (HRLC) to assist in making the novel case that certain decisions made by the police and train staff were informed by their unconscious biases about Aboriginal people.
The extensive legal research, advice and strategising our lawyers provided paid off. On 25 June, Acting State Coroner Caitlin English handed down a landmark ruling – that the scope of the inquest would be extended to include consideration of 'systemic racism'. Another 'first' took place on 22 August when the Victorian Government announced its decision to abolish the offence of public drunkenness, and replace it with public health reform.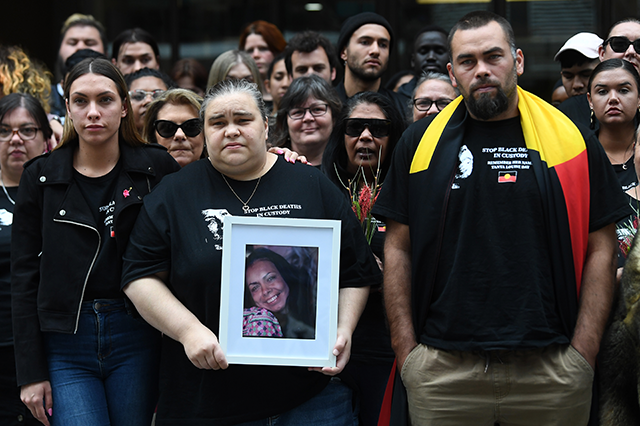 Resilience in pursuit of justice
HRLC Legal Director Ruth Barson said the outcomes of the coronial inquest were the result of the Day family's fearless advocacy and the legal team's ability to deliver a persuasive, pioneering legal case. The tireless efforts of Tanya's family were recognised when they were awarded the Tim McCoy Award for their outstanding achievement in advocacy of human rights and justice for Aboriginal and Torres Strait Islander people in Victoria.
'Having Allens' backing, support and commitment to this case has been critical in enabling us to run a truly innovative, strategic piece of litigation. The significance of what has been achieved in this case is first and foremost a testament to the tenacity of Tanya's children. It is also a testament to the incredible team of Allens lawyers, the barristers and the lawyers at the Human Rights Law Centre. It's been an incredible team effort,' said Ruth.
Throughout the inquest, the HRLC worked closely and in direct communication with Belinda, the eldest of Tanya's children, and other members of her family. According to Ruth, the family showed incredible strength from the beginning and have been deeply engaged with the legal outcomes they want to achieve.
'They're still grieving, but I'm continually struck by the courage Tanya's children - Belinda, Warren, Kimberly and Apryl – manage to muster. Imagine yourself in their shoes, going through a coronial inquest, an undoubtedly gruelling and invasive process. They've demonstrated resilience, strategic engagement and bravery beyond belief, stepping into the public spotlight,' said Ruth.
Bravery in the public spotlight underpinned the family's strong insistence that CCTV footage of Tanya in the Castlemaine police cell be released publicly. For Tanya's family, allowing the public to access the footage was integral to upholding their mother's memory and, importantly, might fulfil a deterrent role by supporting work to reduce Aboriginal deaths in custody. This bravery led to the request being granted by Coroner English in September 2019.
Our role
Partner Louise Jenkins and a large team of Allens lawyers deployed their legal expertise to help a grieving family, and to work on a matter that could have far-reaching impacts for the Aboriginal community.
Ruth Barson said the research, advice and litigation support Allens provided – and continues to provide to the family in the aftermath – has been invaluable.
'Allens did the deep-dive research, which was critical for the HRLC and Counsel to run Tanya's case in such a technical, ground-breaking way. Having Partner Louise Jenkins closely involved in such a hands-on way delivered high sophistication and precision to the overall legal strategy,' she said.