Successful protection, management and commercialisation of Intellectual Property is crucial in fostering innovation and differentiating your brand in the marketplace.
Technology is rapidly evolving, facilitating innovative ideas and providing a myriad of branding opportunities. But changes in technology are also providing new opportunities for your competitors to cash in on your brand and reputation.
No matter what industry you're in, your IP portfolio is one of your most valuable assets.
How we can help
We deliver protection for the whole life cycle of IP assets, including: searching, advisory, registration, opposition, portfolio management, litigation and enforcement.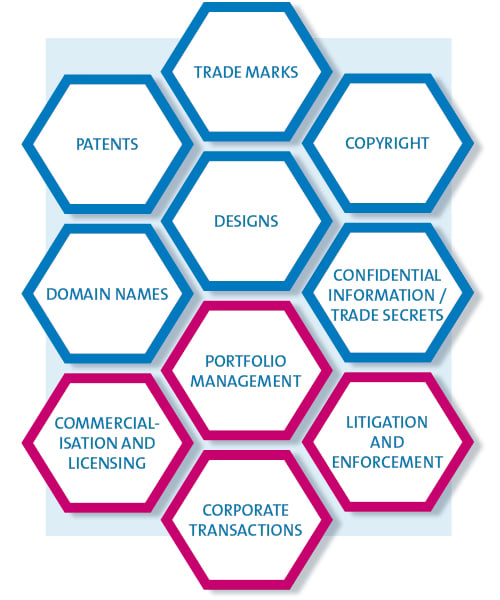 We have extensive experience handling the IP portfolios of some of Australia's and the world's most famous brands and innovative companies. While we try to keep our clients out of court rooms, our track record in litigation is second to none.
Delivering integrated and highly specialised service
We combine the commercial and litigation skills of our intellectual property lawyers with those of our patent and trade marks attorneys to offer you a comprehensive and seamless intellectual property service, from creating, commercialising and managing your IP portfolio, to protecting and enforcing your rights.
Putting strategy at the forefront
Our focus is on understanding your business so we can help you plan your IP strategy effectively. We're known for our pragmatic, commonsense and streamlined advice, designed to help you achieve your commercial objectives.
Focussing on supporting our clients' success
As the pace of change continues to increase, our clients require pragmatic and commercial advice that supports their business strategy. We're committed to supporting your successes by providing dependable, transparent and high quality service, helping you focus on developing your business.
Redbubble Limited
Acted for the ASX-listed operator of a major online marketplace in the Federal Court of Australia by Hells Angels Motorcycle Corporation (Australia) Pty Ltd (Hells Angels) and The Pokémon Company, International Inc (Pokemon).
Infosys Limited
Acting in defence of the preliminary discovery application and Qudos' other allegations concerning a master banking services agreement.
Pfizer / Wyeth
Acting for Pfizer / Wyeth in patent revocation and infringement proceedings relating to the vaccine Prevnar 13.
Biomerics
Advising in Federal Court patent infringement proceedings commenced against Canadian manufacturer Diros Technology Inc and its Australian distributor M Medical Pty Ltd.
Beiersdorf
We advised Beiersdorf on a number of disputes with Unilever, on issues including comparative advertising, and defending Federal Court misleading or deceptive conduct allegations (and we're now acting on the appeal).
Gilead, Merck Sharp & Dohme and Sanofi
Acting in a dispute relating to breach of confidence by the Commonwealth of Australia, acting through the Commonwealth Department of Health.
ANZ
Assisted the big 4 bank ANZ with IP issues associated with the divestment of its wealth management arm to IOOF and divestment of its life and consumer credit insurance business to Zurich.
Wesfarmers
Acting in Federal Court proceedings commenced by Globe International Limited in relation to allegations of copyright infringement and misleading and deceptive conduct.
Trade mark portfolio management
Handling the trade mark portfolios for iconic brands such as Australian Olympic Committee, Ford, Just Group (Smiggle, Peter Alexander, Dotti, Just Jeans, Jay Jays, Portmans and Jacqui.E), Longchamp, PepsiCo, Hilton Worldwide, Samsung, Sony, Tiffany & Co and Visa.
Franchising
Advising on franchising related issues including the registration, use and protection of trade marks, marketing clearance and intellectual property disputes to clients including Ford, Dunkin' Brands (Baskin-Robbins, Dunkin' Donuts), PFG Australia, IKEA, Peugeot Automobiles Australia, and Ricoh.
Anti-counterfeiting
We have extensive experience in brand protection, from lodging and enforcing trade mark and copyright Notices of Objection in Australia and New Zealand to handling interlocutory and substantive proceedings in the Federal and Supreme Courts
Advertising
We advise clients on a range of advertising, sponsorship and marketing issues across various industries, including tv & film, food & beverages, music, electronics, and sport. From ad clearance to ACCC investigations, we help clients achieve their marketing objectives while minimising the risk of complaint.