Georgie Bills
Georgie Bills is an Associate in Disputes & Investigations in Brisbane and co-chair of the Brisbane ALLin working group.
The legal system can be really difficult to navigate as an individual. Working at a law firm, it's our bread and butter, and I think it's only fair we give back to the community and share those skills with people who really need it.
Allens is currently working with the LGBTI Legal Service, a small community legal centre based in Brisbane and the only free service entirely dedicated to helping people in the LGBTQIA+ community.
Each week, two volunteers from our Brisbane office staff the clinic and are assigned to clients. For some clients, we're providing advice on queer-specific issues like incorrect gender identities and dead names on legal documents. Other clients are seeking advice on more general issues, like banking or tenancy disputes, but they're looking for a legal centre where they feel comfortable and where they know they'll be treated sensitively. Creating a safe space is such a beautiful thing to be able to do, and something we can all try to do, no matter our role.
Last year, I worked on a case for a same-sex couple, one of whom was trans. The couple was married before same-sex marriage was legalised, and the trans individual wanted to change her gender on her marriage certificate when the Marriage Act was amended.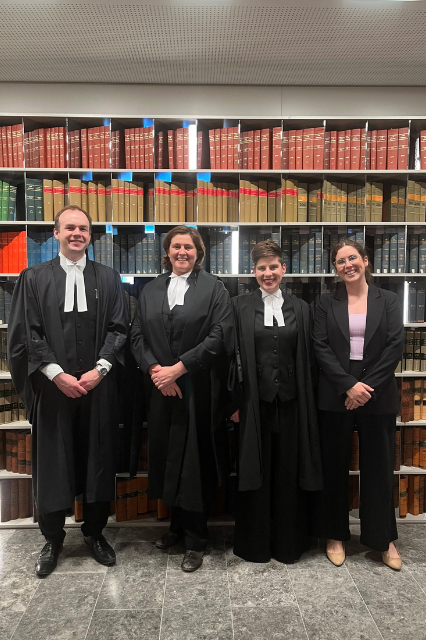 The matter ended up before the Court of Appeal after Births, Deaths and Marriages declined to change the marriage certificate. While we weren't able to have the certificate changed, we were able to work out an outcome with the Registrar after the judgment was handed down that brought our clients some peace.
It wasn't a perfect solution, but it means our clients no longer have to struggle to prove they are married, which can be particularly important in times of crisis, for example in granting visitation rights in hospital. This was something that really emotionally affected our clients. The way they came up against the legal system struck to the core of their identities. Being able to be their guide through the legal system and explain what's happening in simple terms was incredibly rewarding.
If law firms like Allens don't help LGBTQIA+ pro bono clients, it's likely they'd be unable to find a resolution to issues like this. It's up to us to step up and stand up for what's right, particularly for members of the trans community who have been under attack a lot.
For me, pride means showing up in the ways that you can. That means different things for different people, but I think it's particularly cool when allies show real pride in the fact they are allies.
The counsel team (L-R): Jackson Wherrett, Elizabeth Bennett SC, Rebecca McEwen, Georgie Bills