Igor Bogdanich
Igor (he/him) is a partner specialising in natural resources projects and M&A, who is passionate about supporting his LGBTQ+ colleagues to bring their whole selves to work.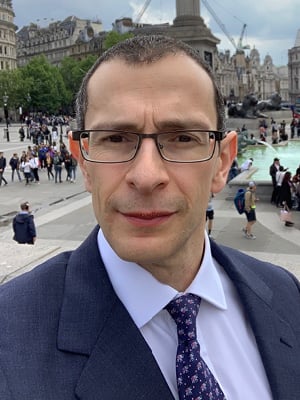 One question I often ask myself is how I can help people really be themselves at work, and do that comfortably and effortlessly. While, 30 years ago, my law school wasn't a diverse place, which sometimes made my ethnicity alienating for me, I know that, as a white, straight male, I haven't had to overcome many hurdles in bringing my whole self to work. And I know for others it's sometimes not that easy. I want to help where I can to remove any barriers to people feeling free to be themselves.
There'll be a lot of people who want to help and want to be allies, and don't know how. Some people might be worried they'll say the wrong thing, or feel they need to commit a lot of time or energy to being an ally. But it's really simple. Just ask. Just ask your colleagues and friends how you can best support them. You don't have to politicise it or be loud about your support if you don't want to; and if you do want to, you can. You just have to turn up, and be a friend to someone.
Show up to the office LGBTQ+ network drinks (our group is called ALLin, which I think is incredibly apt as we talk about the role of allies and supporters). Stand alongside your LGBTQ+ friends at ALLin events, just like you would at any other event – and stand next to them wherever else it counts. And don't just do it once. Keep doing it and keep showing your support.
There's nothing about more acceptance, inclusion and support that isn't better than having less of these things. As a partner of a firm that is committed to being 'in it together', I like knowing that I can play a role as an ally in fostering true inclusion.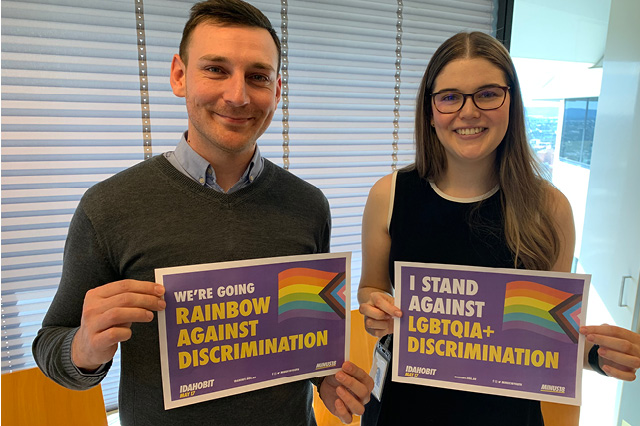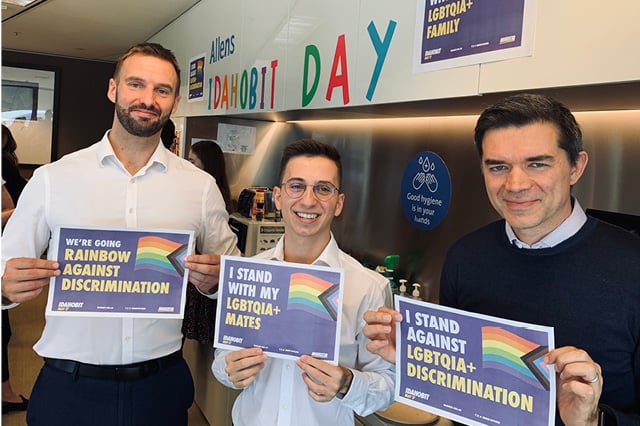 Igor's Perth colleagues showing their support on this year's International Day Against Homophobia, Biphobia, Intersexism and Transphobia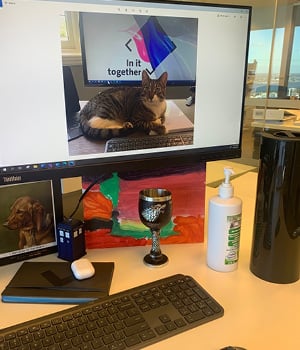 BESPOKE KEYBOARD I got used to this keyboard working from home during COVID, and then bought another one to use at the office – for an identical typing experience. It's a joy to type on.
BLACK GOBLET The world's best deal toy.
TARDIS For those of you who know Dr Who, it's ultimately about the triumph of hope and acceptance over cynicism (and, by way of segue, always striving to be an ally).
AIRPODS I prefer a good podcast to a good movie. The airpods are a necessity.
PAINTING This painting is by my young son. I just love the abstract composition and bursts of colour.
LARGE SANITISER BOTTLE Before COVID I was regularly mocked for having hand sanitiser (it was one of the funnier Kris Kringles I received).
ALLENS NOTEBOOK I use my iPad regularly to take notes and mark up documents, but I still find it easier to leaf through this. And it had a nice design.
DANISH DESIGN WATER JUG I promise myself I will hydrate more, but I honestly think I have never filled this jug. I drink coffee and tempranillo.
ON SCREEN is a picture of my cat at my home work station – I thought it would be very meta for you to see my other desk, while looking at my office desk.
JIGSAW Finally, I have a small jigsaw puzzle box on my desk – I don't like jigsaw puzzles but I couldn't draw my eyes away from the contemplative look in the dog's eyes and the caption 'Employee of the Month'. If you just won employee of the month, would you remain as pensive as this pooch?