Kate Sinclair
Kate (she/her) was a lawyer in our Technology, Media and Telecommunications team, the Sydney Pro bono Coordinator and an active member of the firm's LGBTQ+ network ALLin. She now works at the Public Interest Advocacy Centre.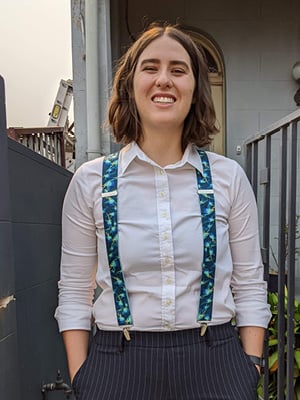 I was quite selective about which firms I applied to when beginning my legal career. One of the things that was really important to me was working at a firm with a genuine commitment to social responsibility and access to justice. Allens' record on this front really impressed me but the words 'Australia's oldest law firm' gave me a really conservative vibe, which almost stopped me from even applying. As an outspoken Aboriginal and lesbian, I wasn't sure that I would find my people at Allens.
It was an Allens person I'd been paired up with through an Indigenous student mentoring program who convinced me to apply. So many firms tell you what you want to hear about their culture, but only through meeting their people and seeing it firsthand can you properly decide whether it's one that aligns with your values. I met some great people through the application process, which saw me eventually accept a clerkship offer with Allens.
Turning up on my first day, I was all business. I was convinced coming to Allens was the right move, as I knew stepping outside my comfort zone would push me to become a better lawyer. What I didn't expect was to find people who I'd genuinely connect with. To my surprise, Allens is full of people who proudly bring their whole selves to work – which makes for an interesting and diverse mix. Upon realising this, which was almost immediately, all my ideas about Allens were flipped.
Having gone through a period of coming to terms with my sexuality at a previous firm, I came to Allens with a resolution to be out, proud and confident, in the hope of fostering a space where others would feel proud and confident. Being out at work can feel a little uncomfortable sometimes. My dad tells me that politics have no place at work, but this is tricky when sexuality and gender are deeply personal, and often political. For example, presenting my authentic self involves a relatively androgynous gender expression and, while Allens gives me the space to do this, it is not something that I take for granted. Gender presentation is such a public performance, in many ways that sexuality is not. For this reason, I acknowledge that sexuality, unlike gender identity, comes with many privileges that have not been afforded to non-binary, trans or gender diverse people.
Creating safe spaces for LGBTQ+ people will always be a goal of mine but it requires allyship to make it a reality. On a tour through the Castro District in San Francisco, the guide told me that allyship is a verb, not a noun. One of the things that I think makes Allens feel like a safe place for me is the firm's understanding that allyship comes through listening, learning and taking action.
There have been times where I've felt uncomfortable, and have given open feedback on the way something's been handled, expressed or communicated. On such occasions, I have provided my perspective to people at all levels of management, and have found that they genuinely listen, and engage with new perspectives and ideas. This allyship is one of the reasons I am proud to work at Allens, and I look forward to the firm's continued efforts to ensure all LGBTQ+ people feel safe and included.
Essential entertainment for Pride month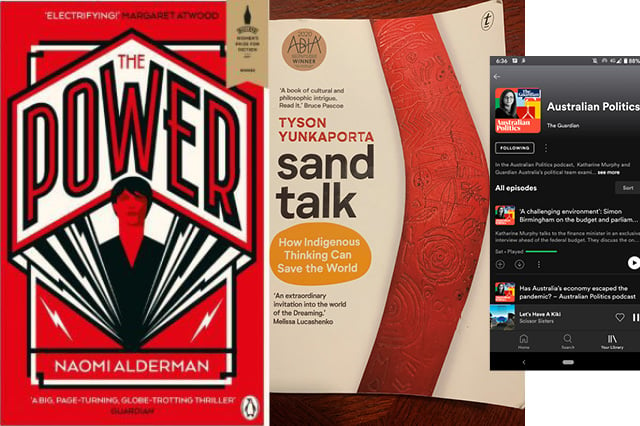 BOOKS
The Power by Naomi Alderman would have to be one of my favourite reads. As a fan of speculative and dystopian fiction, The Power - which is about a reality where young girls and women develop an ability to release harmful electrical jolts from their fingers - called out to me from Barack Obama's reading list of 2017. In this book, Alderman explores what might happen if gendered power dynamics were reversed. With a captivating premise (particularly for superhero nerds x feminists like me) and a clever delivery, The Power shows the exciting and chilling consequences of unrestrained power.
If non-fiction is more your speed, I recommend sand talk by Tyson Yunkaporta. Yunkaporta invites readers into the detailed and complicated world of Indigenous knowledge through which he encourages us to consider alternate ways of thinking about today's modern challenges. I highly recommend delving into this book for philosophical musings which are intellectually and spiritually challenging, but also practical.
PODCASTS
My track record for starting and sticking with podcasts is not a good one (with 35 shows saved to my Spotify library but few actually listened to front to back) but I have remained a consistent, long-time listener of The Guardian's Australian Politics podcast. Each week, Katharine Murphy dives into a trending political issue alongside an expert or influential voice knowledgeable in the area. Guests are invited from all sides of politics and Katharine doesn't pull punches, which is an enjoyable listen if you want to get into the complexities or crux of a current issue.
PRIDE ANTHEMS
Songs that you will catch on my playlist for any party are, without getting too carried away:
Believe by Cher
Dancing on My Own by Robyn
Chanel by Frank Ocean
Cool for the Summer by Demi Lovato
Toxic by Britney Spears
Good Thing by Zedd (ft Kehlani)
Let's Have a Kiki by The Scissor Sisters
I Feel Love by Donna Summer
Rain on Me by Lady Gaga and Ariana Grande
Honourable mention to Carrie (I Want a Girl) by Moaning Lisa, which is sadly not included on my party playlist because it's not a dance track.