Harnessing the power of technology to achieve positive legal outcomes for the most disadvantaged in our communities.
In a nail-biting display of legal problem-solving and technical prowess, the Allens Neota UTS Law Tech Challenge for Social Justice saw teams battle one another with the goal of being named this year's winner.
The purpose of the Challenge, a joint initiative of Allens, UTS and software firm Neota Logic, is for students enrolled in the university's Brennan Justice and Leadership programme and Allens participants to work closely with a not-for-profit organisation to develop an app that addresses a real and current problem facing that organisation.
The Challenge gives Allens lawyers an opportunity to apply their skills and develop tools to solve the challenges faced by people in our community who face disadvantage or marginalisation. It brings together the firm's passion for innovation and commitment to the community, with the goal of making justice more accessible to everyone.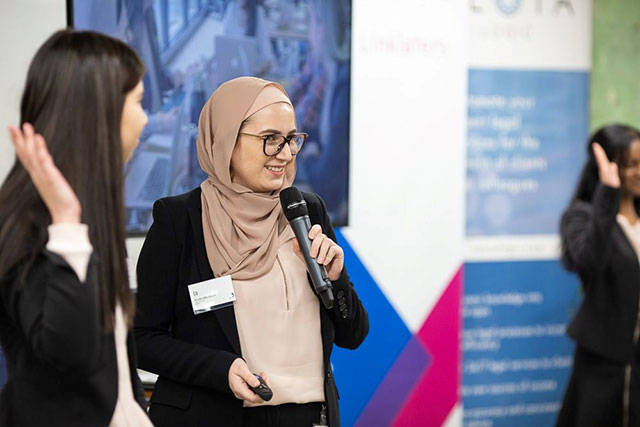 Our Managing Partner, Richard Spurio, represented Allens on the judging panel, with UTS Law Dean, Lesley Hitchens and Blackrock Managing Director, Alison Telfer.
Like last year, there were two winning apps, each dealing with very different problems and improving access to justice in very different ways.
Team Pod's 'The App Next Door' is designed to assist Sydney's Inner City Legal Centre to triage the multitude of requests it receives for assistance in disputes between neighbours. Many of these disputes have the potential to be solved with relevant information rather than specific legal advice and The App Next Door prioritises these, freeing-up time for appointments.
Team InterAct's 'InfoCollect' helps The Humanitarian Group, a community legal centre in Perth, identify inbound enquiries that do not fall within the Centre's legal remit. The Centre helps refugees and migrants with a range of legal issues but often spends hours each week meeting people who aren't actually eligible to use their service – using up valuable time and resources. The InfoCollect app is designed for people whose primary language is not English and classifies potential clients by determining eligibility.
For all the students involved, the Challenge provides a learning experience that helps them acquire the kind of cutting edge technology skills they'll need for their future legal work.
In her opening address to the audience, UTS Law Honorary Professional Fellow and Allens Alumni, Beth Patterson, highlighted the growing need for lawyers to be receptive to technological innovation.
'This Challenge demonstrates that through partnerships, teamwork and collaboration, students can adapt technology to solve legal problems – it shows that embracing technology is not something for the future – in fact, we're already doing it,' she said.