In brief
The Federal Court has found that the packaging of the Little Kids Shredz children's food range, produced by food giant Heinz, misled consumers because it suggested the high-sugar products were nutritious and healthy. Lawyer Eliza Lockhart reports.
Background
In June 2016, the ACCC commenced proceedings in the Federal Court against Heinz, alleging it made misleading representations in relation to its 'Little Kids Shredz' product line.
The ACCC's complaint focused on the prominent visual depictions of fresh fruit and vegetables on the Shredz packaging, along with statements such as '99% fruit and veg' and 'our range of snacks and meals encourages your toddler to independently discover the delicious taste of nutritious food'.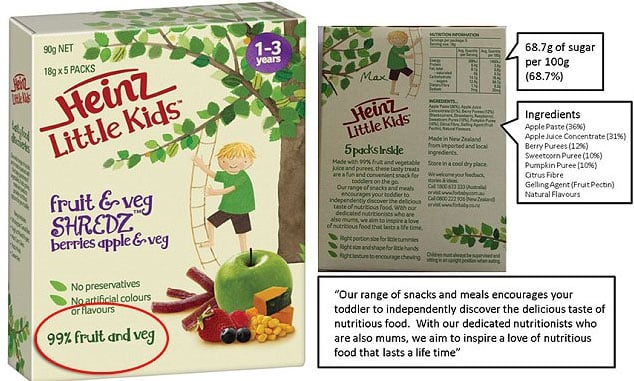 The ACCC argued (among other things) the packaging's allusions to nutrition and health were misleading because they were inconsistent with the product's high sugar content.
The packaging conveyed a misleading impression
Significantly, none of the claims made on the Shredz packaging, when taken individually, appear to be inaccurate. The key statement displayed prominently on the front of the package – that the product is made with or from 99 per cent fruit and vegetable purees – is seen to be accurate when examining the ingredients list. However, the literal truth is not a defence if the overall impression is misleading.
The court found that the combination of imagery and words on the Shredz packaging conveyed to the ordinary, reasonable consumer that the product was healthy and nutritious, even though the packaging did not make any express claim to that effect.
It held this representation was misleading because the product's sugar content was more than 60 per cent and therefore it could not be considered beneficial to children's health.
The court referred to World Health Organization guidelines and Heinz's internal guidelines on the acceptable sugar intake for children to establish that Heinz's nutritionists ought to have known a representation that a product containing approximately two-thirds sugar was beneficial to children would be misleading.
A taste of things to come?
This case is the first shot in what is likely to become a protracted battle to define the edges of acceptable advertising of high-sugar foods, as the anti-sugar movement gathers pace (the UK commenced its 'sugar tax' this month, joining a growing list of countries to have taken similar steps). Over the past decade, sugar has emerged as the leading nutrient of concern in many jurisdictions. Indeed, Heinz's Shredz products were brought to the ACCC's attention through a complaint by the Obesity Policy Coalition.
The Coalition is a lobby group that comprises Cancer Council Victoria, Diabetes Victoria and Deakin University, and seeks to influence food labelling and advertising rules. It is at the forefront of the movement to regulate sugar in diets (sugary drinks, particularly) and, we suspect, its policies have had a strong influence on the ACCC's allegations against Heinz.