In brief
The military and high-priced wedding videographers are no longer the only ones actively using drones. Companies from a variety of fields are coming up with innovative uses for drone technologies, and patenting them. Associate Evan Wilcox, aeronautical engineer turned patent attorney, describes a few of these intriguing new applications.
DJI
DJI is a large manufacturer of drones based in China. In a recent US patent application (US 15/827787), DJI is seeking to protect a method and system for walking pets that could put dog walkers out of business. Figure 7 from the application, shown below, speaks for itself. The invention includes the drone walking the 'target object' along a predefined route, providing positive and negative stimuli to the animal, as well as recognising and managing 'waste generated by the target object'.
Amazon
Amazon was recently awarded a US patent (US 9,921,579) for delivery drones that may be configured to receive human gestures and, in response, instruct and adjust the drone's flight operations. Human gestures may include visible gestures, audible gestures, and other gestures capable of recognition by the drone. An example of an 'unwelcoming' gesture from the patent is shown below.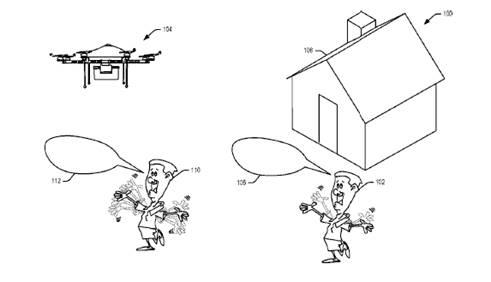 Amazon has clearly invested heavily in drone development and research, and is already planning for rapid deployment of drones in its parcel delivery service.
Another example of a drone patent recently granted in Amazon's portfolio (US 9,828,097) is for managing a worst-case scenario. While the drone is in-flight, the on-board computer is constantly evaluating the terrain and updating a potential crash sequence, should flight operation of the drone be disrupted. For example, the terrain information can identify bodies of water, forested areas, open fields and other locations (as in the figure below) to determine an area more suitable for dropping components of the drone if (or when) flight operation errors, malfunctions or unexpected conditions occur.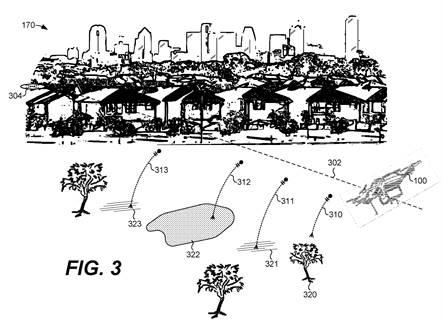 This technology may help to satisfy aviation authorities' concerns about autonomous passenger flight, and will go a long way to further implementation of drone technologies.
IBM
Also looking to improve package delivery is IBM – a technology company expanding into drones. A recent IBM US patent application (US 15/823,832), directed to the in-flight transfer of packages between aerial drones as shown below, highlights its ambitions.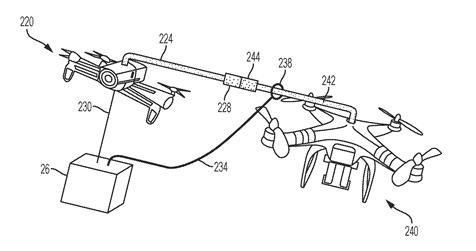 This interesting technology could help to ensure a continuous supply of package-delivering drones.
Boeing
An Australian patent application (AU 2017219137) owned by The Boeing Corporation is directed to a method and system for non-destructive testing using an unmanned aerial vehicle.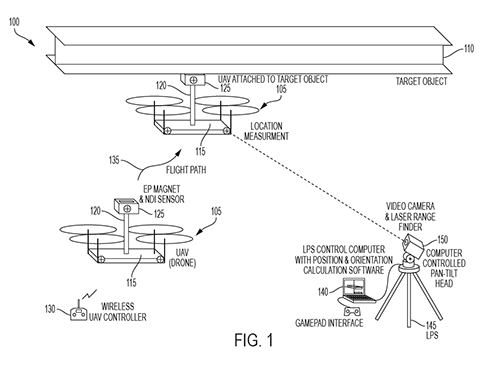 While the target structure (110) is illustrated above as an I-beam, the system is equally well adapted for use in inspecting a wide range of other structures, including, but not limited to, power lines, power generating facilities, power grids, dams, levees, stadiums, large buildings, large antennas and telescopes, tanks, containers, water treatment facilities, oil refineries, chemical processing plants, high-rise buildings, and infrastructure associated with electric trains and monorail support structures. Thus, it is clear that Boeing is also interested in commercialising its drone technology in a variety of applications.
Department 13
The military, of course, has not forgotten about drones. Department 13, a US-based 'counter-drone' technology company, was recently awarded a contract with the South Korean army. It has a pending Australian patent application (AU 2016332918) directed to a method comprising detecting wireless communication systems by extracting identifying features of transmitted signals of interest. Essentially, they determine if detected signals correspond to a particular communication system used with a target device (eg a UAV). If the target is deemed a threat, they can force it to land or return home.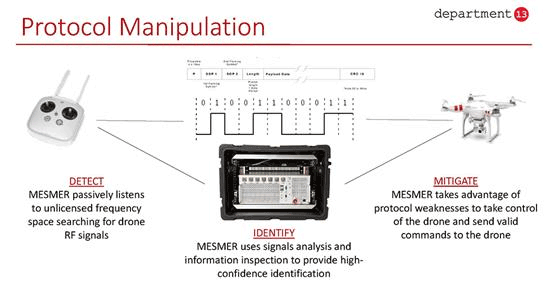 Department 13 has a moderate US patent portfolio, but only a small Australian patent portfolio and no patent protection in Korea. It will be interesting to see how it expands.