In brief
The Federal Court has ruled that adopting distinctive branding may not be enough to get a trader out of hot water if the get-up of the trader's products is similar to somebody else's. Despite each product displaying the trade marks CHANTELLE and CHÉRI, last month, the Full Federal Court confirmed that Homart Pharmaceuticals had engaged in misleading or deceptive conduct in effectively copying the get-up of Careline Australia's bio-placenta products. Lawyer Isabel Burraston reports.
Background
Since 2008, Careline Australia has manufactured and sold a bio-placenta cosmetic product under the trade mark CHANTELLE. In early 2016, Homart Pharmaceuticals launched a competing bio-placenta cosmetic product called CHÉRI. The two products were packaged as shown below: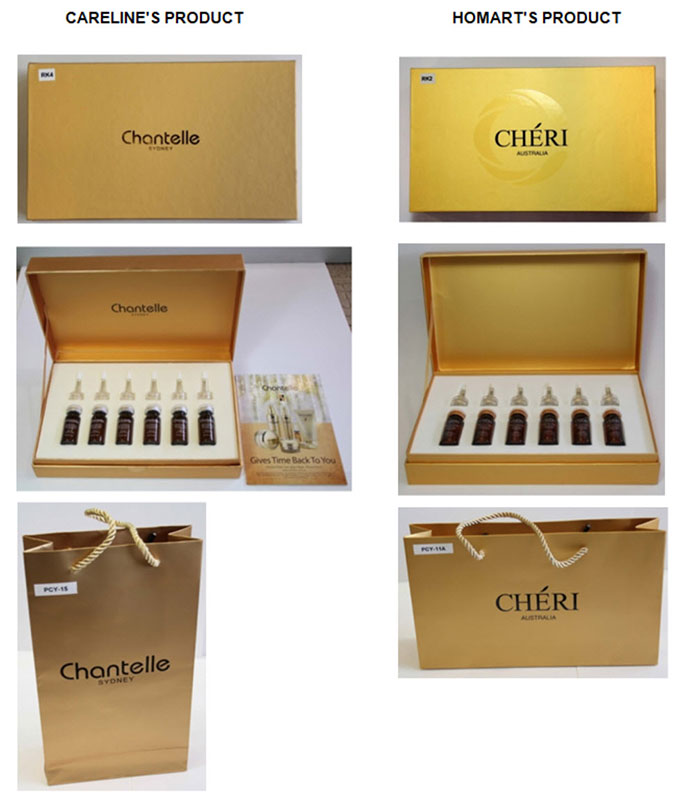 Primary judgment
At first instance (Homart Pharmaceuticals Pty Ltd v Careline Australia Pty Ltd [2017] FCA 403), Burley J found that the visual features of Homart's packaging were misleading or deceptive under section 18 of the Australian Consumer Law for reasons including that:
Homart had copied almost all features of the CHANTELLE products, including both the external and internal shape, size and colour of the product and packaging;
Careline had acquired reputation in the unique 'eye-catching' combination of features that comprised the get-up of the CHANTELLE product, which provided 'strong visual cues' that consumers would remember;
CHÉRI was a weak mark by which to distinguish the products and, according to the evidence, lacked reputation. There were strong phonetic and visual similarities between the French-sounding names, CHÉRI and CHANTELLE. Furthermore, as the products would often be stacked or displayed in an open configuration instore, the mark was not always visible. This meant consumers would identify the get-up of the product rather than the product's name. There was also an unexplained change in style from the packaging of Homart's full CHÉRI product range to the bio-placenta product – from typically two-tone in colour to plain gold;
based on evidence of Homart's head of design, Homart intended to gain a market advantage at the expense of Careline by adopting similar packaging. This lead Burley J to apply the principle in Australian Woollen Mills (1937) 58 CLR 641 that if 'get-up is adopted for the purpose of appropriating part of the trade or reputation of a rival', this constitutes 'reliable and expert opinion' that the product is likely to deceive consumers; and
a 'not insubstantial' number of relevant consumers, who were aware of the CHANTELLE product, would likely be drawn from a search for the CHANTELLE product by the visual features of CHÉRI.
Appeal
The decision was appealed by Homart (Homart Pharmaceuticals Pty Ltd v Careline Australia Pty Ltd [2018] FCAFC 105), who argued that Burley J had failed to consider a number of issues when assessing Homart's conduct. Homart argued that Burley J failed to consider the fact that the CHÉRI products were often purchased in bulk and that the expense of this transaction was important when assessing the likelihood of consumers overlooking the different CHANTELLE and CHÉRI labelling.
Homart also argued that Burley J failed to consider the fact there was no first-hand direct evidence of confusion among consumers, that the colour gold (a colour synonymous with luxury) was commonplace within the cosmetics market, that regard was had to matters that were outside Homart's control (eg, the instore display of the products), and that the principle in Australian Woollen Mills was incorrectly applied. However, the Full Court of Murphy, Gleeson and Markovic JJ disagreed with Homart on each point, finding that Burley J's reasons did not reveal any error, and confirming each of his Honour's first instance findings.
Golden rule?
This case is a timely reminder that trade marks alone may not be enough to differentiate between get-ups that are near-identical. Even where packaging prominently displays trade marks, if a company can demonstrate sufficient reputation in the features of its get-up, it may be successful in asserting misleading or deceptive conduct against a rival appropriating that get-up.