Elyse Adams and Thornton Christensen
For Allens Managing Associate Elyse Adams and Aware Super Senior Legal Manager Thornton Christensen, intense negotiations through a hard lockdown allowed their naturally fun and relaxed working styles to shine.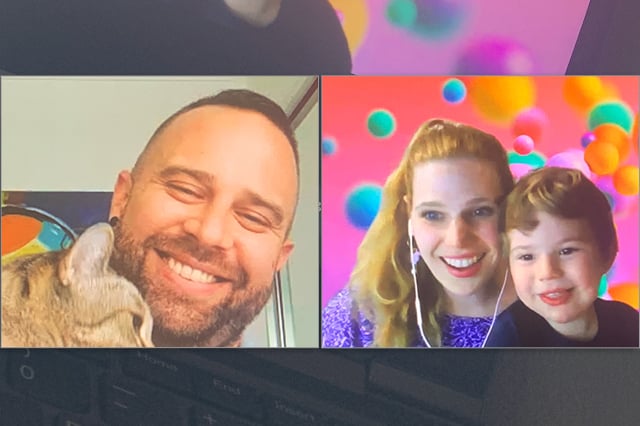 Elyse: When I was introduced to Thornton by an Allens partner, he prefaced our introduction by saying 'you guys are going to like each other, you're going to get on', which I think was a nod to Thornton's very easy and open manner, and the obvious sense of fun and positivity we both bring to our work.
The whole country was in lockdown when Thornton and I began working together, which was handy practice because I - being based in Melbourne - was about to be thrown into a much more intense lockdown in the thick of critical deal negotiations, with a two-year-old in tow. (As it transpired, my son Thomas was not the only non-lawyer to make a cameo over the coming months – Thornton's cat Etienne also made regular appearances.)
Normally when you go into negotiations there is a bit of an unspoken language - a nudge under the table or a sideways glance can say a lot! But when you're virtual you're much more exposed, so Thornton and I had the challenge of getting to know each other and establishing a negotiation rhythm with the added complication of me being remote from the negotiations happening in the Aware Sydney offices. Rehearsals, a Microsoft Teams sidebar chat and strategic use of silences saw us get a really good rhythm rolling, which sustained us through the many long days of negotiations. We became totally in sync - Thornton is especially perceptive.
When faced with a situation like we were in, with a critical and time-sensitive deal and a number of handicaps, you just have to get creative and make it work, which is how we played it. A constant supply of jigsaws, snacks, books and Bluey kept my tot mostly happy. 'Camera off' was my friend when he needed a little extra attention.
There are clients I've worked with in the past who wouldn't have been as accepting, even though there was really nothing else we could do - we needed to get this deal done. I was constantly blown away by Thornton's understanding and support. Every time I tried to apologise I was firmly told an apology wasn't necessary.
In spite of our predicament, we achieved a great result, and Thornton and I formed a terrific relationship along the way - a silver lining of lockdown for sure.
Thornton: We've worked with Allens for a long time across a whole range of different projects and they know us really well as a result. Elyse and I came to work together for the first time this year on some very important negotiations around our administration arrangements, and right away I knew we were going to get along. One thing you notice about Elyse straight up is that she's a lot of fun and doesn't take herself too seriously - which was handy given the situation we soon found ourselves in.
Elyse and her family went into the harsh Melbourne lockdown at the height of our negotiations, which meant her son Thomas was a regular fixture in our calls. He was only two, so still needed a lot of attention, but Elyse just rolled with it. I was awe-struck by her ability to remain calm, to carry on with a complicated negotiation while passing Thomas a puzzle or a snack, never missing a beat. Sometimes she'd turn her camera off to feed him while continuing to lead the room through a contentious point - it was incredible.
I'm not someone who has a lot of airs and graces or a distinct work persona. COVID stripped a lot of the usual formalities of work away and forced us all to be a much less polished, more human version of ourselves which I felt was such a leveller and a real positive to come out of the experience. For Elyse and I, it also played to our natural working styles which are relaxed, playful and curious about others.
COVID or not, I think the secret to a great working relationship comes down to the sentiment, humour and humility that you bring to situations - despite the challenges we faced, we made it fun, which made it work.
What's on Elyse's picnic rug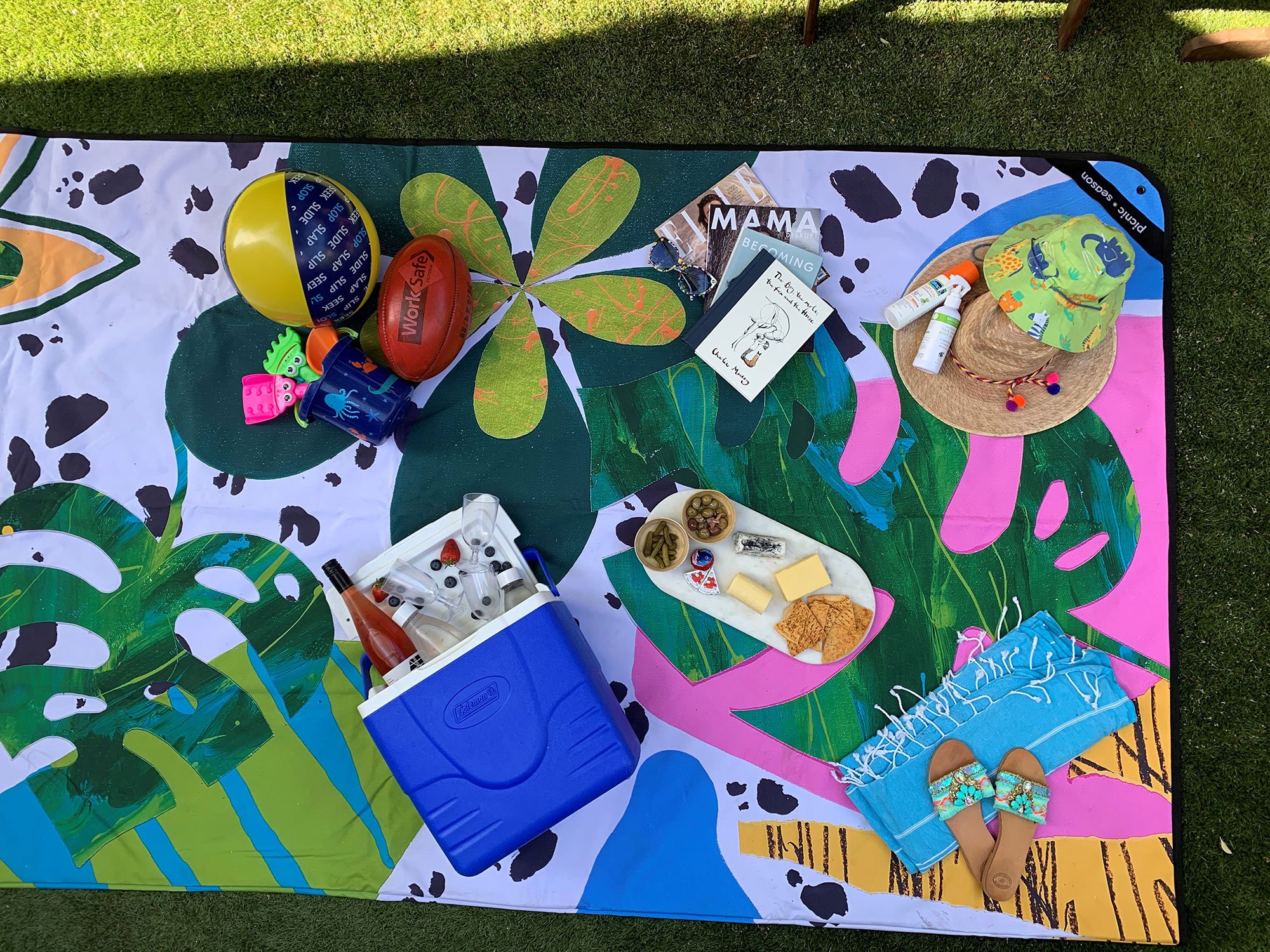 Bit of a mashup of picnic-come-beach fun on my picnic rug. This is a snippet as it's a massive nine-seater – excellent for all the physically distant (but still social!) picnics us Melbournians have become accustomed to over the last couple of months.
ESSENTIALS Hats, sunnies, sunscreen, towel and some fancy slides are all essentials. I've developed a bit of a reputation when it comes to my shoe collection; these slides were handmade on my parents-in-law's island in Greece so they're a bit spesh.
ESKY Whilst somewhat unsightly, it's not really a picnic or beach trip without this icon. Here it's filled with sodastream, a Grampians rosé and tonnes of summer fruits.
NIBBLES No day out is complete without some form of nibbles, and a cheese platter is always an easy win. My bub has also inherited his mum's love of olives, so they are never far away. [Not shown here: about 14 other courses, because you must over-cater.]
READING MATERIALS A mag or book makes for a cruisy summer afternoon. I must admit that they barely get opened these days though, I'm generally too busy making sure the footy doesn't end up in the dip!
ACTIVITIES Beach or park, the balls, bucket and spades will be with us. Sitting still is only possible for so long with a tot in tow!
10 quick questions about Thornton's 2020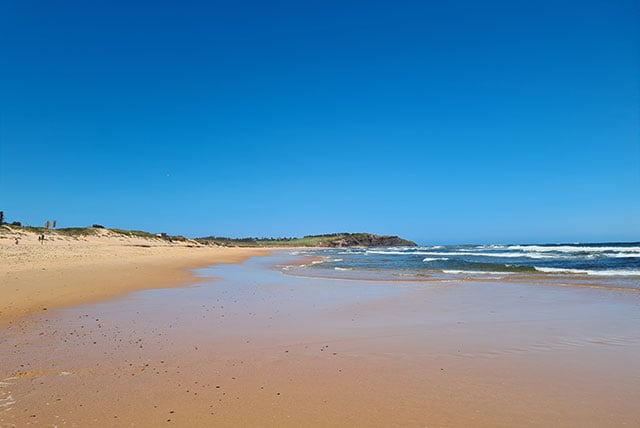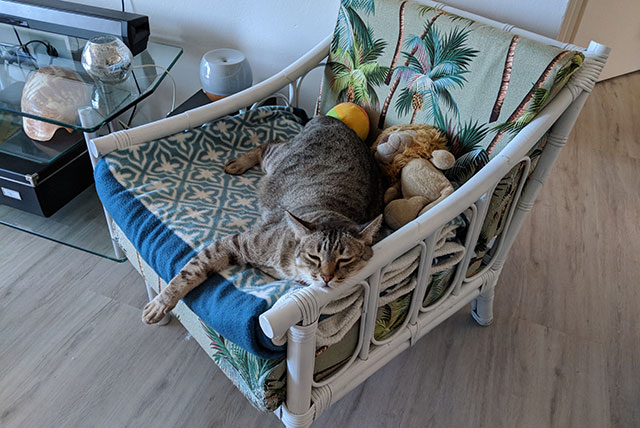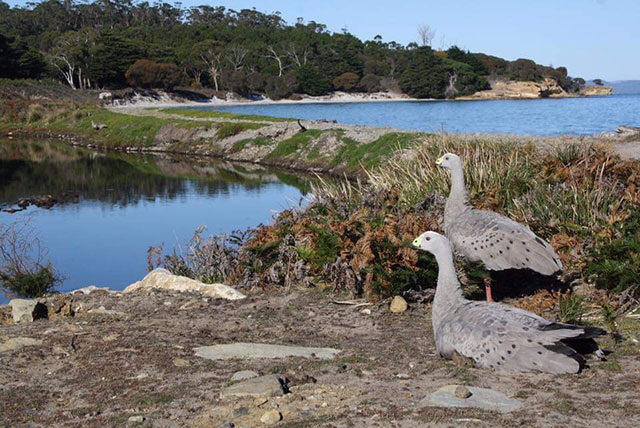 When have you felt happiest this year? Pretty much most of the time. 2020 has obviously been a challenge for all of us, but personally, I feel like a lot of good has come from it. I got to spend more time with immediate family, and once the lockdown in Sydney ended, with friends as well (we now have a regular cycle of rotating dinner parties which was until now a long lost artform). I live by the beach, so breaks during my workday are spectacular! And I'm surrounded by my pets all day (trust me: after a tense meeting, there is nothing better than getting a cuddle from your cat, or having your dog demand pats).
What are you most grateful for right now? My beach. Whether it's lockdown, a heatwave (like today), a stressful day, or I have nothing to do – it's my happy place.
How will you see out 2020? By hosting our family for Christmas and then speeding off to Tasmania! (I'm not Tasmanian, but I've called it for many years my 'spiritual home' – I'm just so glad we can finally get there!)
Best silver linings of COVID? (1) The true embrace by workplaces of flexibility – we finally have more time in our lives whilst learning how to leverage the full capabilities of technology so as to achieve just as much as we ever did. (2) People re-discovering the joy of the little things and getting to know their local communities.
2021: Optimist or pessimist? Optimist. I mean, this year had many silver linings that were completely unexpected. So whatever happens in 2021, I'm sure we will find good things there too.
What's inspiring you right now? Basically, people. Hard times tend to bring out good things in people. I think we've seen a lot of sensitivity, caring, support and kindness from everyone this year.
What's one thing you wish you'd known when you started this year? That home exercise equipment would sell out. I did well to collect enough to get through the great gym shutdown. But I could have been even better prepared…
What have you learnt about yourself or others in 2020? That we are all immensely adaptable and have a tremendous capacity to care for one another. I saw this in my team, my organisation, my family and in the community. 2020 became all about forging connections, which is rather ironic given that many of us spent at least some period of time forcefully separated in lockdown.
What's the toughest thing you've had to navigate this year? Like most of us: the physical separation from friends and family.
What are you most looking forward to in 2021? Seeing family and friends who I've been separated from this year. I've got a lot of family in Melbourne, friends in Queensland (where I grew up), and one of my brothers lives in Broome in WA. It will be nice to be able to see everyone again.