On my desk
Our desks can be a window to our world. From treasured family photos and nostalgic mementos to life's necessities and little luxuries, here's what's keeping us company as we work.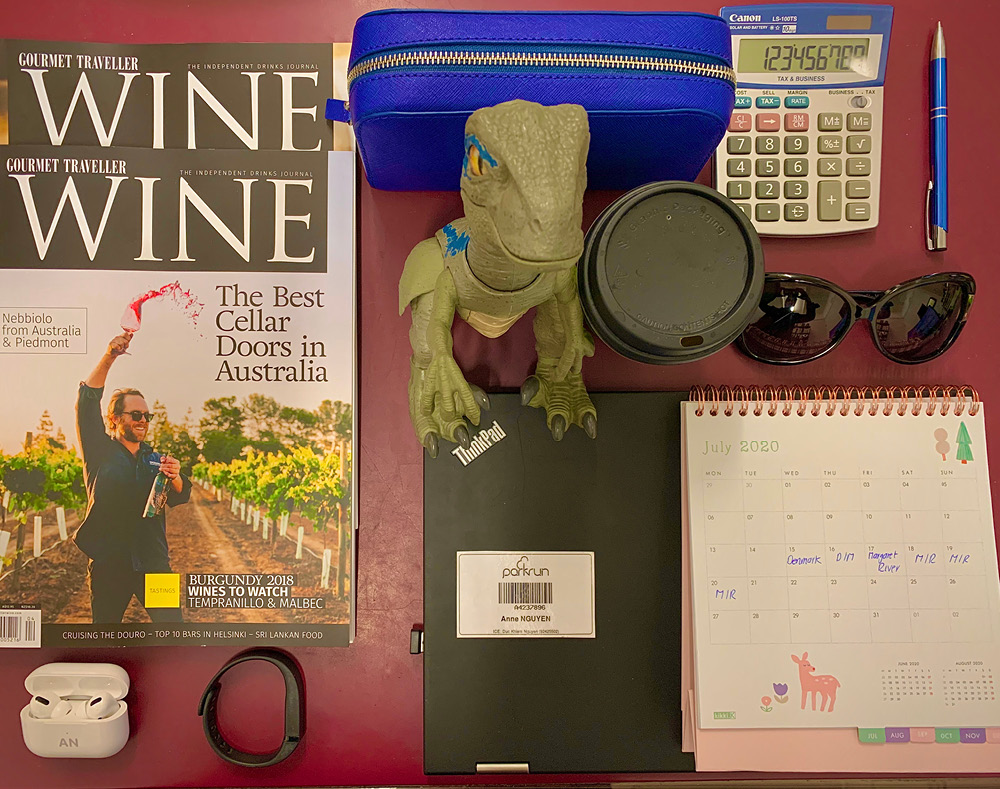 GOURMET TRAVELLER WINE MAGAZINES AND CALENDAR The magazines remind me of my last three holidays (Burgundy, the Ahr Valley and the Barossa Valley). The calendar shows my Margaret River trip, which was hastily substituted for my cancelled wine trip to South Australia.
FITBIT, SUNGLASSES, COFFEE AND PARKRUN BARCODE Without the morning commute, I have managed to go for a run most days, followed by a coffee at the local cafe. Hopefully I can beat my personal best once Parkrun resumes.
AIRPODS A partner at work recommended them. They have been great for running but I made the rookie mistake of also pairing them to my laptop.
DINOSAUR (OR BLUE FROM JURASSIC WORLD FOR THOSE IN THE KNOW) One of the best things about working from home is being able to spend more time with my nephew.
CALCULATOR I'm terrible at mental maths. It is in everyone's best interests if I use a calculator to test the formulas I've included in contracts.
BEAUTY CASE A makeshift pencil case.
TEA I enjoy sipping on different herbal teas throughout the day. My current favourite is T2 Tea's 'Turmeric Ginger Ninja'. These days it's a win if I can drink my tea while it is hot.
SNACK As my colleagues know, I am consistently snacking throughout the day. This is my morning tea – natural yoghurt with oats, chia and blueberries.
POT PLANT I love a bit of greenery to brighten up the office. I'm also pretty proud to have kept this one alive for a while.
AIR PODS These have made working from home a whole lot easier. They're great for multitasking.
PHOTO My husband Daniel and I love holidaying around Australia. There is so much natural beauty. Our most recent trip was to Kakadu where we took a 4WD and explored the national park. This photo is from an earlier holiday where we went to the Great Barrier Reef and Daintree National Park.
CERAMIC JUG This is a souvenir from my last holiday to Italy. It is a handmade and painted jug from Caltagirone in Sicily – a beautiful little hilltop town which is renowned for the pottery and ceramics that are made there.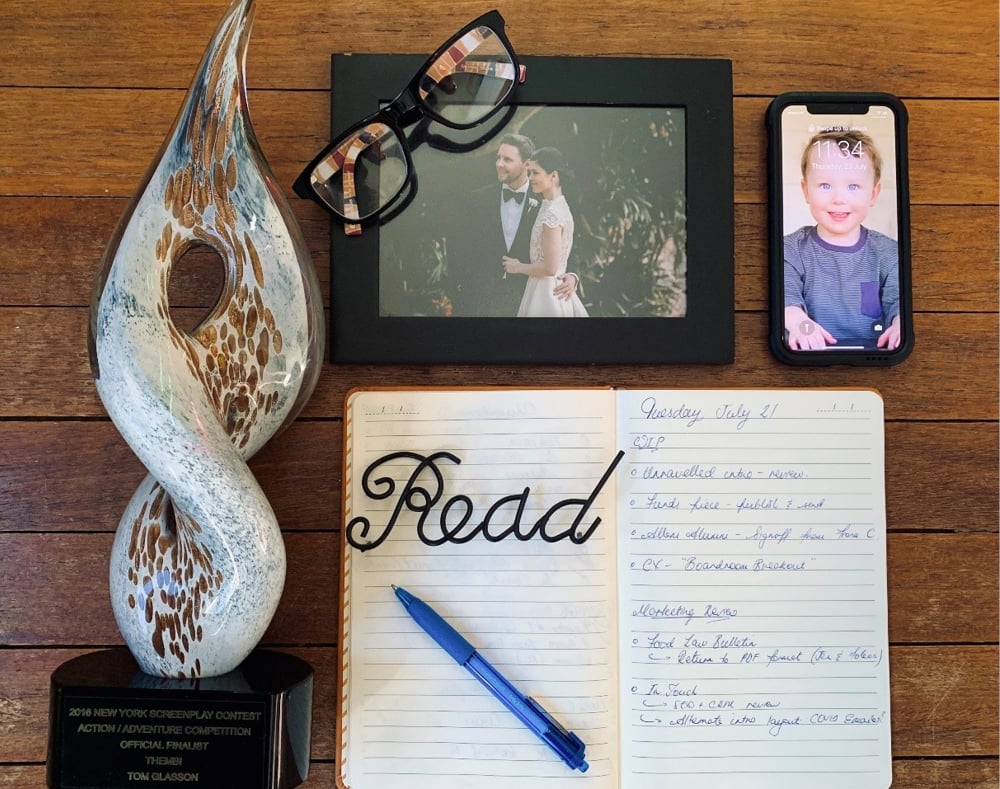 NOTEBOOK Pretty much my first draft of everything is done in longhand. On a laptop I find my writing outpaces my thoughts, resulting in a whole lot of words that say far too little.
'READ' Both my parents were teachers, and my late mother was actually Australian Librarian of the Year (yes, it's as nerdy as it is prestigious). Books have hence always been a huge part of our family and, in light of my current role, I find mum's old paperweight from her desk neatly doubles up as a reminder to triple-check everything before we publish it.
TROPHY My not-so-little vanity piece. I'm an ardent cinephile and years ago I was lucky enough to become a film critic for various outlets like the ABC, the Guardian and Concrete Playground. Eventually I decided to try my hand at writing my own feature screenplay (putting my money where my critical mouth was, so to speak), and it ended up placing as a grand finalist in a raft of international competitions. This trophy from the New York Screenplay Contest is my favourite and commands pride of place on my desk.
PHOTO FRAME Back when I was a lawyer, I used to have a digital frame on my desk. I loved the way it cycled through hundreds of photos, each time sparking a fond, forgotten memory. Problem was, each memory distracted me from my work, so now I settle for analogue. This one's from my wedding day, featuring my unreasonably beautiful wife Kate.
PHONE Sadly it only ever leaves my side these days when security cloaks it at press screenings of up-and-coming movies. But I gleefully use its front screen as my new and improved digital photo frame (ahem, yes, completely undermining my last point). Mostly now it's just a showcase for the wicked grin of my two-year-old son Edward.