Tim Chislett
Tim is a real estate partner, providing legal and strategic advice in relation to complex property developments, leases, capital transactions and real estate joint ventures.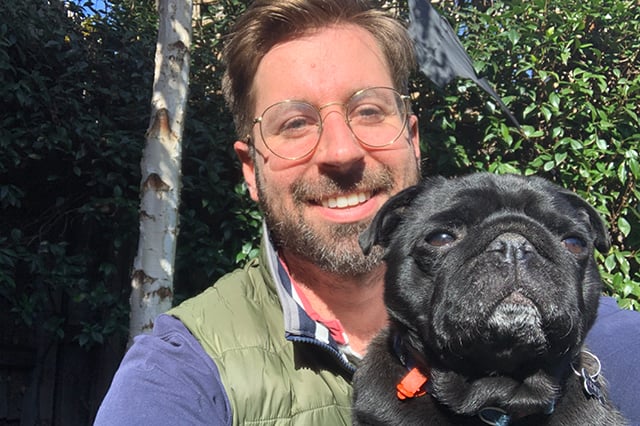 Booking a last-minute flight to Melbourne changed my life. I was born in rural South Australia and spent most of my childhood in suburban Adelaide – a long way from the boardrooms of Collins Street. As a kid, I didn't know big commercial law firms like Allens existed, so it never occurred to me that they were somewhere I'd belong. Then, at university, I wasn't sure I could make it to a firm like Allens in the big smoke of Melbourne. I almost didn't book the flights for my clerkship interview – it seemed pretty expensive to fly over for one day to interview at a firm I wasn't sure I was good enough for.
Before I arrived at the Melbourne office I'd never set foot in a building more than about 10 floors high, so even going up in the elevator was pretty daunting. But there wasn't that stuffy pinstripe culture I'd been expecting; it was a welcoming place with down-to-earth people from all different backgrounds. Afterwards, I couldn't wait to come back. Some of my fellow grads are now lifelong friends. One of them was a groomsman at my wedding.
Midway through my career, I spent two-and-a-half years working as in-house counsel at Newmark Capital. I learnt a lot about what it takes to be a commercial and service-oriented lawyer. One of the Newmark directors gave me two pieces of advice that have rung in my ears ever since. The first was to always back yourself. The second was that no one is going to get things for you, you have to go out and get them yourself.
In the end, the decision to book that last-minute flight was a real sliding doors moment. My life would be completely different if I'd ruled myself out by deciding I wasn't good enough. If I could go back and talk to that small-town kid, I'd tell him to create as many relationships as you can, take as many opportunities as you can and always back yourself.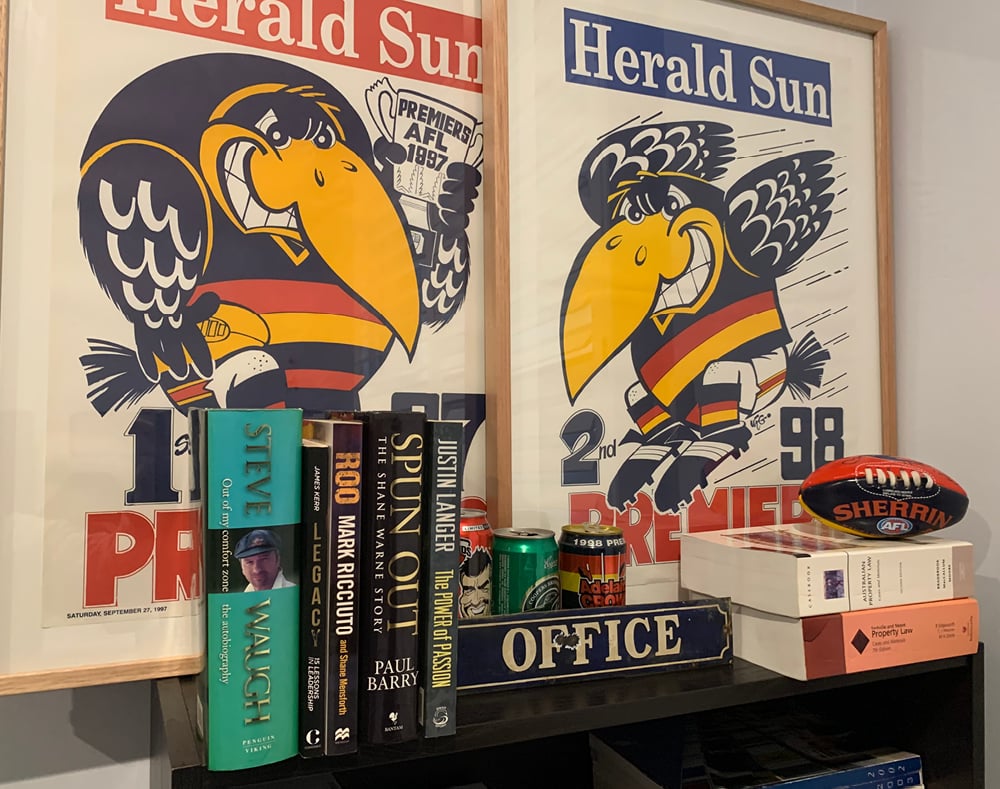 THE CROWS POSTER No explanation needed really – I am huge Adelaide Crows fan and can still clearly remember the joy of the 1997 and 1998 premierships. Sadly, I can also clearly remember the pain when we lost to Richmond in 2017.
SPORTING BOOKS I love a good sports biography. I love the motivating words of Justin Langer (now the Australian Cricket Coach) in Power of Passion. He signed my copy in 2003 when I was about to go on a cricket tour of New Zealand and I often think of his message to 'work hard, have fun and always play with a smile on your face'. It's a mantra that can be adopted in most pursuits.
THE OFFICE SIGN The enamel office sign is my grandpa's and is at least 70 years old. My grandpa ran a wholesale plant nursery in Adelaide and this sign was always on his office door, right in the middle of the nursery. It was always very special to visit him at his office and I treasure this sign (now in my office) and the memories I have helping him at the nursery (although I am sure I was more of a hindrance than a help).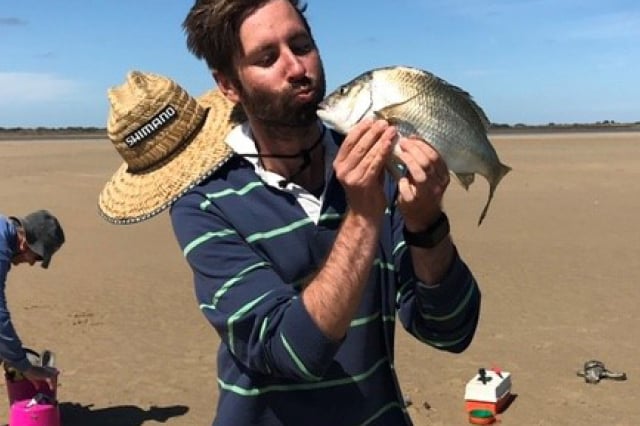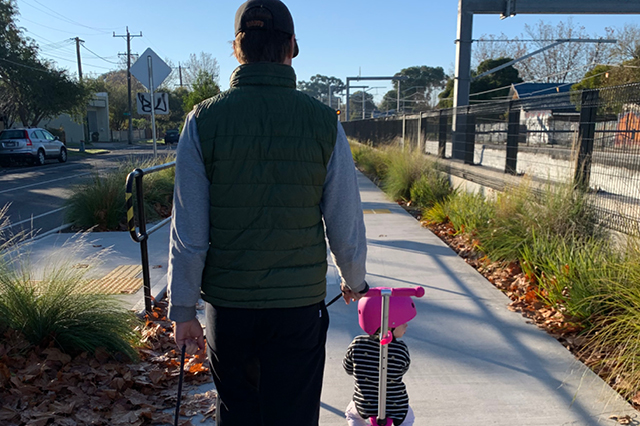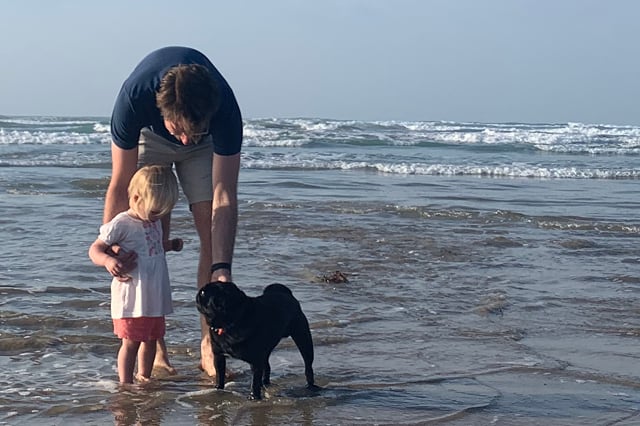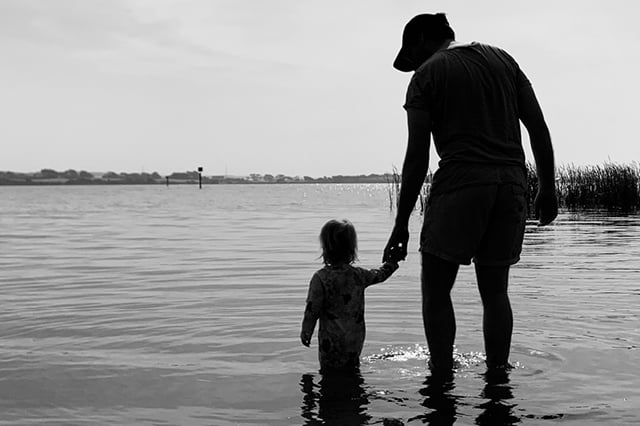 Who are your sporting heroes? I am a football and cricket tragic. Growing up in the 90s, Steve Waugh and Mark Ricciuto were my heroes.
Favourite meal? Without doubt, Mum's lasagne.
What's the best thing about being a lawyer? There are two things that I can't split – getting to work with our amazing clients who are changing the face of Australia's cities every day, and working with really talented young lawyers and watching them develop.
Tea or coffee? Coffee. During lockdown, I have been going to my local, Mr Wednesday in Fairfield, every day (and mostly twice) for my fix!
What's the best silver lining during lockdown? Definitely getting to spend so much time with my two-year-old daughter, Phoebe.
What's the last show you binge-watched? The Last Dance – so much nostalgia looking back on 90s sporting culture.
What will you never get tired of watching? Seinfeld. Have probably watched the whole thing 10 times.
What hobby will you never give up? Hopefully, I can fish and golf until I am grey and old.
When do you feel happiest? Being in or on the water, especially at some of my favourite coastal towns in South Australia.
What was your uni job? I worked at a butcher shop in Adelaide with colleagues and a boss, who are now lifelong friends.