Australia was one of the first countries in the world to set a national Renewable Energy Target (RET), designed to increase the amount of electricity generated from renewable sources and reduce greenhouse gas emissions.
Since the introduction of the RET, and particularly in the last few years, Australia's renewable energy sector has been very active, with wind and solar facilities being developed and financed across the country.
Now developers are looking at complementary opportunities in large-scale battery storage and pumped hydro in order to provide the firming capability Australia's energy system requires, particularly given the anticipated retirement of very significant levels of coal fired generation as those facilities approach the end of their design lives.
International interest in renewable energy continues to climb, and the Australian market is full of opportunities.
How we can help
Operating at the forefront of renewable energy, we play a significant role working with sponsors, purchasers, vendors, offtakers and financiers to navigate and shape the rapidly evolving renewables landscape.
We mobilise highly effective and seamless project teams, and are known as great project managers and communicators, as well as excellent technical and commercial lawyers.
Providing an end-to-end service offering
We bring together extensive experience in dealing with the complex and broad ranging legal issues associated with the development, acquisition and financing of renewable energy assets across Australia and can support you on every aspect of your renewable project.
Helping you deliver on high profile and high pressure projects
Working with you on cutting-edge deals and first of a kind 'pathfinder' transactions (eg, storage, solar thermal and corporate PPAs) is what we do best. We work hard to be agile and responsive to changing regulatory issues and new market opportunities, and apply this flexibility to best practice insights and innovative ideas to help you achieve your desired outcomes.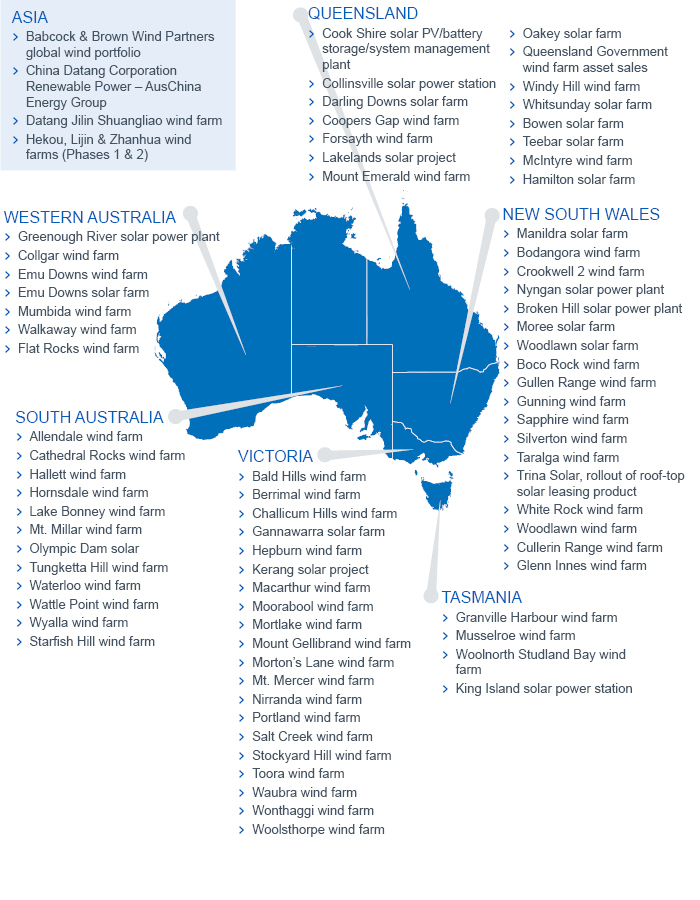 Snowy Hydro 2.0 Expansion Scheme
Snowy 2.0 is a pumped-hydro expansion of the existing Snowy Scheme which will increase generation capacity by 2,000MW and provide large-scale energy storage of 175 hours at full capacity. Our work has included advice on all aspects of the funding, construction, environmental planning, regulatory and property aspects of the project.
Shoalhaven hydroelectricity scheme
Advised Origin Energy on its application to secure Critical State Significant Infrastructure status for the proposed $230 million expansion of the Shoalhaven hydroelectricity scheme. Scheduled for completion before 2022, the expansion will contribute an additional 235MW of pumped storage generation to NSW's electricity mix.
World's first utility scale renewable storage project
Advised ARENA in relation to Kennedy Energy Park, the world's first utility-scale solar, wind and battery storage project in Queensland.
Establishing Australia's first renewable energy fund
Advised AGL Energy on the establishment of its $2-3 billion Powering Australian Renewables Fund (PARF) to develop, own and manage approximately 1,000MW of large-scale renewable energy infrastructure assets and projects, the transfer of the Nyngan and Broken Hill solar farms and the Silverton and Coopers Gap wind farm projects into the PARF.
Southern hemisphere's largest wind farm, Goldwind Australia
Advised Goldwind Australia on its successful $110 million bid to purchase the Stockyard Hill Wind Farm Project, and then advised on the development of the project and the project financing arrangements.
Corporate PPAs
Advised clients including Sydney Airport, Orora Limited, CBA, Southern Sydney Regional Organisation of Councils, Wesfarmers, Transport for NSW, Alinta, EnergyAustralia, Tomago Aluminium, Sydney Trains and Melbourne Water on corporate PPAs using a variety of structures.
Cherry Tree wind farm acquisition
Advised John Laing on the acquisition of the greenfield 50MW Cherry Tree wind farm project, including acquisition structuring, Share Purchase Agreement, project financing, power purchase agreement and management services agreement.
Powerchina's first Australian renewable energy investment
Advised on its purchase of an 80% stake in Goldwind's Cattle Hill Wind Farm development project in Tasmania. This will be one of the largest wind farms in Tasmania once completed.
Victoria's first renewable energy auction
Advised Victorian Department of Environment, Land, Water & Planning on the state's first renewable energy auction, which will deliver more than 900MW of new clean energy.
Australia's largest solar farm
Advised Octopus Investments on funding managed by it, partnered with renewable energy and storage company Edify Energy, to develop the Darlington Point Solar Farm, a greenfield site in western NSW following an acquisition of a majority stake in the project company.
Development, financing and sale of Beryl Solar Farm
Advised First Solar on the project development and financing of the Beryl Solar Farm, and the sale of Beryl Solar Farm to New Energy Solar.
Largest solar project in Western Australia for Indigenous Business Australia
Advised on partnership with subsidiaries for the design, construction, operation and maintenance of a 10MW solar farm at Northam. This project is believed to be the first utility renewable energy project to be developed on a 'merchant' basis.